Sign up for membership and insurance with MDA National from 1 January 2021 and receive 15% off for 18 months
If you are a specialist surgeon*, anaesthetist or psychiatrist (in private practice) and join MDA National from 1 January 2021, you are eligible to receive a 15% discount on your Membership and Professional Indemnity Insurance until 30 June 2022.
To take advantage of this exclusive offer, simply click the button below to receive a personalised quotation within 24 hours (Monday to Friday) or apply now to receive a formal approval and policy proposal.
Have a question or prefer a quote by phone? Contact your State Business Development Specialist directly, phone our Member Services team on 1800 011 255 (8:30am to 8:00pm Monday to Friday) or e-mail peaceofmind@mdanational.com.au.
Am I eligible for this offer? *
This offer is available to specialist doctors in private practice or combined private and public practice in the following MDA National specialist categories:
Psychiatry
Anaesthesia
Surgical categories including :

Cardiothoracic, Colo-Rectal, Endocrinology, General, Hand, Otolaryngology Head and Neck, Paediatric, Plastic and Reconstructive (no Cosmetic Surgery), Urology, Vascular


Support in the moments that matter
Our priority will always be to provide the timely and practical medico-legal advice, and general support our Members require, so they can keep on practising with confidence.
As a doctor owned membership organisation, we recognised the challenges frontline healthcare workers faced throughout COVID-19. We extended our support during this time by:

Calling for a safer work environment for all healthcare workers, by submitting an open letter to Federal and State Governments and Hospital Employers
Providing 24/7 on-call medico-legal advice and a dedicated COVID-19 web page to support Members through the crisis
Freezing premium increases for 99% of our Members for the 2020/21 financial year
Providing on ground support to hospitals via our Keep on Caring program
Doctors in Private Practice
MDA National's Professional Indemnity Insurance Policy is designed to provide you with peace of mind and extensive cover to protect you from medico-legal risks that may arise from your provision of healthcare services to patients:
Starting in Private Practice
When commencing in private practice as a specialist for the first time, you'll be eligible to receive our Getting Started in Private Practice discounts for your first 4 years, providing you with a discounted premium whilst you focus on building up your private practice and patient base.
Getting Started in Private Practice Discounts
Our discounts commence at 80% in your first year. If you commence private practice as a specialist between January and 30 June, you'll receive the 80% discount for that period, and again for the following full financial year. Subsequent discounts are 60% in your second full year, 40% in your third and finally 20% in your fourth year, before reaching a mature premium.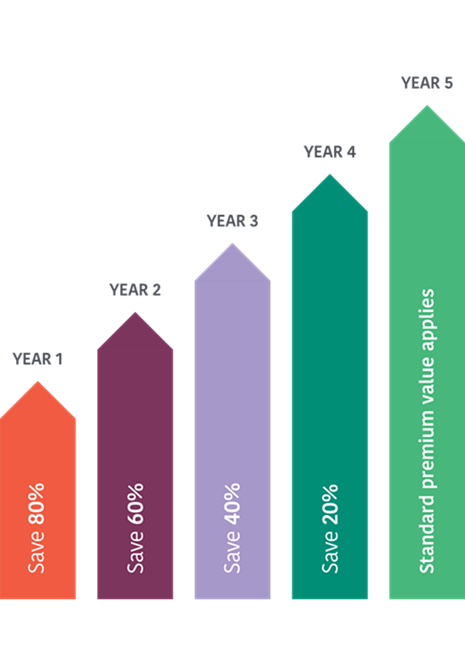 *This offer is only open to eligible applicants, being those who satisfy the eligibility criteria . The offer applies over two policy periods – the first policy period being 1 January 2021 to 30 June 2021 and the second policy period being 1 July 2021 to 30 June 2022. The availability of the offer to eligible applicants over each policy period is subject to the terms and conditions of the MDA National Insurance Professional Indemnity Insurance Policy and underwriting approval, with the availability of the offer to eligible applicants over the second policy period also being subject to renewal being offered and accepted for that period. Subject to the conditions referred to above being satisfied, a 15% reduction will be applied to the Insurance Premium and Membership Subscription otherwise payable by the eligible applicant for each policy period. The premium reduction may be subject to minor variations due to rounding and cannot be claimed in conjunction with, or in addition to, any other premium reductions, offers or discounts. The offer is not available to existing members.
Insurance products are underwritten by MDA National Insurance Pty Ltd (MDA National Insurance) ABN 56 058 271 417 AFS Licence No. 238073, a wholly owned subsidiary of MDA National Limited ABN 67 055 801 771. Before making a decision to buy or hold any products issued by MDA National Insurance, please consider your personal circumstances, and read the Product Disclosure Statement and Policy Wording and the Supplementary PDS and Endorsement to the Policy Wording available at mdanational.com.au.