As a longstanding part of the profession, we remain true to our 'doctors for doctors' ethos – owned and governed by doctors, caring for the wellbeing and interests of doctors.
For over 95 years, psychiatrists have trusted MDA National to support them through any issue they face in their career. We remain committed to providing the expert advice and personalised service you need, when you need it, so you can keep on practising with confidence and providing outstanding patient care.
Have a question or prefer a quote by phone? Contact your State Business Development Specialist directly, phone our Member Services team on 1800 011 255 (8:30am to 8:00pm AEST Monday to Friday) or e-mail peaceofmind@mdanational.com.au.
We're here to support you in the moments that matter with unwavering Member care.
Individualised advice and personalised support
Medico-legal helpline, 24 hours in emergencies – speak to a person not a machine
In-house medico-legal experts and claims and advisory team
In the event of a claim, one case manager until your matter is resolved
Support in practice and tailored risk management services
Comprehensive cover and protection
Doctors for Doctors program - talk freely with a peer who understands your situation and the impact of a medico-legal matter, to independent psychiatrist referrals in exceptional circumstances
Doctor-led and doctor-informed service delivery
Focused on the best professional and personal outcome for the doctor
Local presence, national support - benefit from having the strength, backing and resources of a national brand behind you, as well as the local knowledge and presence of state offices
Supporting 54,000+ Members and insureds – we're invested in you, not shareholders
Owned and governed by doctors, caring for the wellbeing and interests of doctors
A longstanding part of the profession, supporting doctors for more than 95 years
Nine out of our 10 Mutual Board directors are doctors
Specialists in health care, law and medical indemnity, backed by a dedicated team of risk advisers and external lawyers
Keep on practising with confidence
Throughout COVID-19, MDA National Members have valued the personalised advice and guidance they urgently needed to navigate the evolving uncertainties, so they could keep on providing safe patient care.
Sadly, some of the most marginalised people in society became every more isolated during COVID-19, and those on the frontline of mental health services have been trying to work through the pain and angst experienced by patients who were already struggling. This additional burden on already vulnerable patients has translated into a range of issues, including misuse and diversion of stimulant medication, increased suicidality and self-harm, and the loss of rapport when face to face consultations were temporarily suspended and telehealth became the new norm.
Psychiatrists are more likely to receive a complaint for a report issued as an independent medical examiner than a report issued as a treating doctor, but this is the case across all medical specialties. We have seen an increase in disputes arising from retrospective expert opinions in complex medico-legal claims. Your clinical opinion may differ from that of your colleague, but you should always show professional courtesy when providing your opinion.
Below are some things to think about in 2021 and beyond:
Document key clinical thought processes leading to diagnosis, as this can be key to defending a claim or complaint from a patient or a relative.
Always obtain and document informed consent - and provide appropriate warnings and instructions before prescribing medication.
Consider referring to a colleague who may have a greater expertise or more experience with the problem your patient is facing.
Brush up on the OAIC's Guide to Health Privacy, which provides excellent advice on how to manage requests for personal health information.
And remember - you only have the capacity to care for others if you take care of yourself.
By your side when you need us most
We recognise that medico-legal matters can be demanding and stressful, both personally and professionally. That's why our highly qualified and experienced in-house legal team works in close partnership with you to resolve your particular matter as expediently as possible.
Where appropriate, our claims team will partner with external senior lawyers or engage directly with senior counsel. So you will have the most appropriate expertise matched to you specific needs, to ensure the best possible outcome for you.
Reasons why Members called us for advice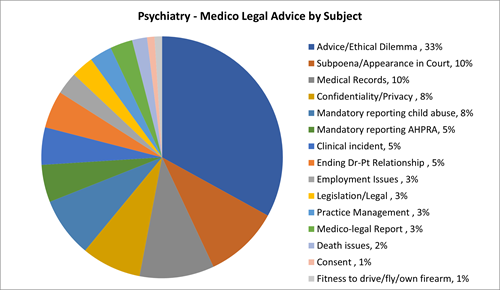 Causes of claims



| | |
| --- | --- |
| | Resources |

MDA National provides timely education to help our Members minimise their medico-legal risk and continually improve their communication and non-clinical skills.

We've put together a handful of our resources particularly relevant to interns below. You will also find a series of Podcasts on Apple Music and Spotify.


Articles and case studies

Videos / webinar recordings

e-Learning activities

Other resources

Head over to the MDA National library to see our full suite of articles, blog posts, webinars and podcasts.
Have you downloaded the MDA National mobile app yet?
Downloading the app is easy. Go to the App Store or Google Play and search for MDA National. Log into the app using your email address or Member Number and the password you use to access your MDA National Online Services account.

Please also see FAQ for your reference here



MDA National has helped over 42,000 Members with medico-legal advice in the last 5 years.
Remember to subscribe to our medico-legal blog at the bottom of this page so you can stay up to date with short sharp blog posts relevant to the medical profession.