Informed consent e-learning activity
Consent is a common area of concern for our Members. This education activity focuses on issues relating to consent conversations where gaps in education and knowledge have been identified.
Complete the activity to more confidently facilitate an informed consent process for medical treatment that leads to optimal patient understanding and decision-making.
In the online session you'll join general practitioner and medical educator, Dr Genevieve Yates to explore this topic through illustrative case scenarios. The activity is an opportunity to anonymously compare your thoughts regarding informed consent with the opinions of other doctors and medico-legal experts.
The activity provides practical advice on:
documentation
determining patient capacity to consent
consent with children and mature minors
shared decision-making.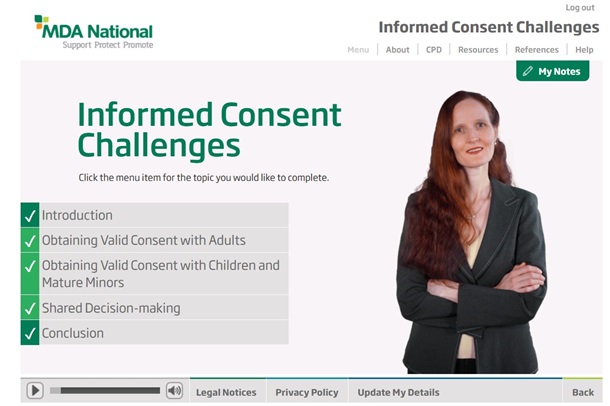 This on-demand learning opportunity is:
exclusively for MDA National Members
designed for doctors at all stages of their medical career; medical students may also find it useful
easily accessible from your computer or tablet
2 hours long – log in and out at your convenience with your progress being saved.
Members can participate and get more information, including the activity's learning outcomes and college professional development recognition details by clicking the button above.
To access this complimentary, Member-only activity you will need to log in to your Member Online Services. To register for a Member Online Services account just click here and get started today.