Prescribing Opioids – Online Education Activity
This online activity is an opportunity to review your opioid prescribing practices.

Join Prof Moira Sim – a General Practitioner, Pain Specialist and academic – to upskill in:
✔ identifying patients who are drug-dependent (or at risk of this) or drug-seeking
✔ establishing clear and ethical boundaries
✔ managing a patient's expectations
✔ lawfully prescribing opioids in your state/territory
✔ minimising harm.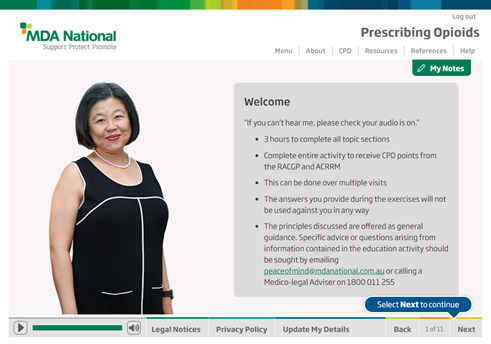 This e-learning activity is:

✔
exclusively, and complimentary, for MDA National members
✔

designed especially for GPs, with other members welcome to participate too


✔ easily accessible any time from your computer or tablet


✔ 3 hours long – log in and out at your convenience with your progress being saved.
More information for members, including the activity's learning outcomes and CPD recognition.
To access the activity you need to log in to your Member Online Services. If you have not yet registered for a Member Online Services account, it's easy, just click here.