Articles and Case Studies
Putting the heart back into health care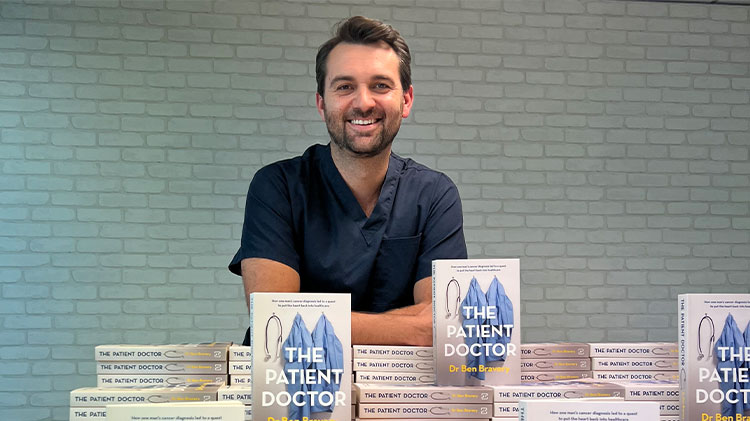 Dr Ben Bravery's journey has been anything but smooth sailing. In 2011, Ben was growing his science communication business in Beijing and had just found his life partner. Things were going well for the 28-year-old, until his life was rocked by a diagnosis of colorectal cancer. After 18 months of treatment in Australia, Ben took on a complete career change.
Today, Ben is a psychiatry registrar with a mission to put patients at the heart of health care. He launched his memoir, The Patient Doctor, in June 2022.
I interviewed Ben about his journey, and he responded to my questions with candour.
You were 32 years old when you started studying medicine – what drew you to this?
I decided to become a doctor while undergoing treatment for colorectal cancer. I thought it would be a good way to give back. I had a sense of my own mortality, so I went to med school to learn what had happened to my body. I had also noticed the health system makes it very hard to be flexible, and it's not always in the best interests of patients. If I wanted to make a difference in health care, I felt I would have to enter it.


Was medical school everything you expected? Did anything surprise you?
Firstly, the medical curriculum is overflowing because medical knowledge continues to increase at a rapid rate. Topics compete for attention in this busy space, and one of the casualties is cancer. Cancer affects one in two people by the age of eighty-five, and every doctor needs a broad understanding of it.
Secondly, we should be training doctors who reflect the cultural and socioeconomic backgrounds of patients. Admission shouldn't only be about exam performance. The current system favours people graduating from private or selective schools who live in healthy parts of the country. Yes, grades are important – but so is a person's lived experience, their commitment to compassion, or their ability to connect with people.
Thirdly, our exams measure our factual knowledge. This is important, but it shouldn't be the only measure of what makes a 'good' doctor. As the medical curriculum has swelled, the things that perhaps doctors understood in the past – the value of conversation, how to best put a patient at ease – have been lost.


What made you choose psychiatry as your specialty?
Psychiatry struck me as the branch of medicine that has best held on to the notion of the patient–doctor relationship, and that the patient is a person. Psychiatrists also tend to think about systems and how people function (or not) in those systems. It isn't perfect, and it's under the same pressures as the rest of medicine – but it feels like the space where I have the best shot at being the kind of doctor I think patients deserve.


From your experience as an inpatient, what are some of the things you feel need to change in our healthcare system?
More staff. More beds. Better food and uninterrupted lunch breaks. Name badges for staff. Second ward rounds or, even better, thorough and unrushed ward rounds. Medical students learning directly from patients – this type of patient contact is known to help medical students develop skills, knowledge and empathy. And what students learn at medical school forms the basis of their knowledge for the rest of their careers. Cultivate empathy. We need to fix the system one patient and one doctor at a time.


As a patient, what's your message to doctors?
It's not necessary for a doctor to be sick to understand sickness. We can show them what it's like to be sick through sharing the lived experiences of others; and teach them empathy, compassion and how to listen. Patients and doctors are interdependent, so it helps if they can better understand each other. But differences between patients and doctors will always exist, which is why doctors must compensate for these by making sure their patients are heard.


As a doctor, what's your message to patients?
It's good to read about your symptoms online, but you should discuss what you read with your doctor, and take printouts if that's easier. Take a notebook where you've written questions before the appointment, and you can also record any test results and what the doctor tells you. If a friend or family member is free, take them along – an extra pair of ears can be important, and having someone familiar and supportive can help you feel more confident in expressing yourself to the doctor.


You've recently released your book, The Patient Doctor. What inspired you to write it?
Instead of running away from the health system after cancer treatment, I ran towards it and re-trained as a doctor. As a patient, I had often been frustrated with the health system, and now even more so as a doctor. I realised patients and doctors were hurting, so my mission to improve things got even bigger. My scans tell me there are no tumours now, but cancer changed me forever. I feel neither well nor unwell. Not fully a doctor, nor fully a patient. My book is about my place in these two worlds and the things I've learnt. My hope is to empower both patients and doctors – to better understand each other and to demand a better kind of medicine.


What advice would you give an aspiring medical student or junior doctor?
Protect your humanity, it's something your patients will care about.


"Cancer changed me forever. I feel neither well nor unwell. Not fully a doctor, nor fully a patient. My book is about my place in these two worlds and the things I've learnt. My hope is to empower both patients and doctors – to better understand each other and to demand a better kind of medicine."
Stay updated with the latest medico-legal content
Subscribe to MDA National's biannual Member publication, Defence Update, for the latest medico-legal updates, articles and case studies.
---
Communication with Patients
,
Doctors Health and Wellbeing
,
Anaesthesia
,
Dermatology
,
Emergency Medicine
,
General Practice
,
Intensive Care Medicine
,
Obstetrics and Gynaecology
,
Ophthalmology
,
Psychiatry
,
Radiology
,
Sports Medicine
,
Surgery
,
Physician
,
Geriatric Medicine
,
Cardiology
,
Plastic And Reconstructive Surgery
,
Radiation Oncology
,
Paediatrics
,
Gastroenterology