Articles and Case Studies
Frontline care in the face of fire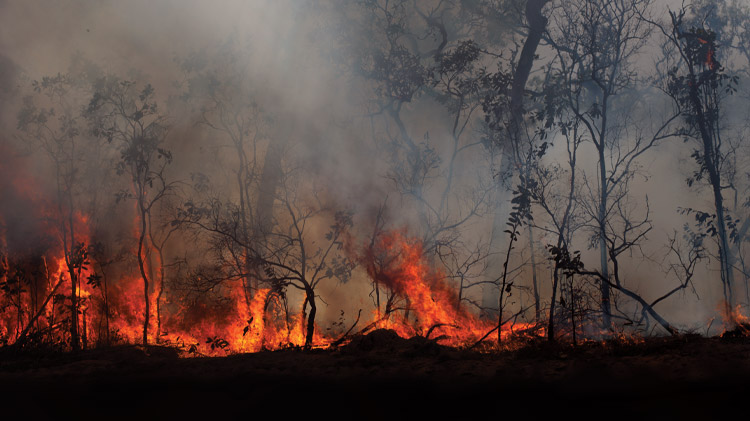 Amidst the chaos of COVID-19, the bushfire crisis may seem a distant memory for some – but for those on the frontline, the experience will last a lifetime. Dr Jaclyn Brown, a GP from Merimbula, shares her story
As a rural GP, I honestly hadn't given much thought to disaster planning. In the rural town where I grew up, I subconsciously believed geographical isolation offered some kind of buffer. I knew our clinic had talked about disaster planning during the accreditation process, but I remember discussing a mass casualty at the airport as an example, rather than a bushfire.
Throughout the festive season, the far south coast was surrounded by bushfires. We had been consulting as normal, while watching the increasing smoke outside and becoming aware of the encroaching fires. We were lucky we had 48-72 hours to prepare – a window of time when the most critical planning decisions were made.
I intended to offer my services at the rural emergency department, thinking they would be overwhelmed with burns and respiratory distress. But most people chose to present to evacuation centres where the most common presentations were anxiety, respiratory distress, and corneal foreign bodies.

I attended the ED on Friday night to find it empty and overstaffed, so I left with some hospital supplies to lend a hand in the evacuation centres that were opening closer to home. By 8pm, two private general practices were setting up a makeshift medical room in the town's main evacuation centre located at the Bowling Club. The numbers quickly swelled to 800 after mass evacuation orders were given.

GPs are well positioned to mobilise people. On Saturday, we created a WhatsApp group for local medical professional volunteers. Over the next 24 hours, the Bowling Club reached maximum capacity, spilling over to the RSL Club and the Golf Club before reaching numbers of 1,400+ local residents.

We centralised our limited resources at one venue, the Bowling Club, which proved to be an excellent decision. We arranged a basic triage through a nurse stationed at peripheral evacuation sites and organised the 'Club Courtesy Bus' to drop unwell patients from the peripheral centres to the Bowling Club.

Due to the extreme nature of the fire, with roads and airways cut off, we had to manage countless patients over three days. Other local sites used a model of St Johns Ambulance acting as triage or patients being directed to a local GP clinic, but these weren't available to us. Fortunately, NSW Ambulance was able to offer a partial service, with our local district hospital 35km away.
My reflections from this experience
GPs have many skills which are helpful in an evacuation centre. We're a familiar and trusted face for the community; we provide 'infectious calm'; we have access to medical equipment and connections; and the ability to recruit other health professionals.

If you ever find yourself in a similar situation, encourage your colleagues to work as a team, communicate early and frequently, and don't be afraid to ask people for help. Overwhelmingly the answer was 'yes', but many people felt they needed permission to say it.

I have no postgraduate qualification in disaster management, and I can only share my own experience of the situation. I suspect many medical professionals develop imposter syndrome when it comes to natural disasters. But if there's one thing I learnt during this experience, it's to offer what you can. You might surprise yourself and be amazed at just how much a team of likeminded professionals can achieve when they work together.
What we did well
Used a range of health professionals and drew on their specialist knowledge
Wore a badge to identify ourselves
Nominated a clear leader of the group and played to the individual strengths of the medical professionals available
Gathered stock from wherever we could – including our homes, private pharmacies, private general practices and the local district hospital – and photographed all stock with the contributor so it could be returned after the event
Set out clinical space appropriately, including clear a space to perform CPR when necessary
Set up a screen to offer some privacy when dealing with very personal problems in the public space
Encouraged people with known medical morbidities to sleep or stay near the medical area for easier monitoring
Used a mobile communication aid (e.g. WhatsApp) to manage short, rostered shifts to facilitate adequate breaks and reduce fatigue
Ensured appropriate storage and documentation of S4 medications
What we found challenging
The lack of a practical local disaster plan
Establishing a chain of command during chaos and rapidly changing conditions
Documentation and storage of notes – working out how to meet clinical obligations in strange and unfamiliar territory
Anxiety about whether we were indemnified for volunteering in a crisis
- MDOs are usually prepared for these questions, so make contact if you're concerned
Transitioning back to general practice
- As Monday arrived, we put up signs at the evacuation centre directing to the two general practice clinics for better triage, documentation and treatment
Distress among colleagues
- A natural disaster is a time to be tolerant and supportive of one another. Encourage debriefing and monitor your colleagues after the event
Managing difficult patients
- People will be extremely distressed so you must prioritise your personal safety. Keep a register of difficult patients for handover to the next shift. Ask for police presence, as this can help keep everyone calm
"If there's one thing I learnt during this experience, it's to offer what you can. You might surprise yourself and be amazed at just how much a team of likeminded professionals can achieve when they work together."
Communication with Colleagues
,
Communication with Patients
,
Confidentiality and Privacy
,
Clinical
,
Doctors Health and Wellbeing
,
Medical Records and Reports
,
Technology
,
Emergency Medicine
,
General Practice