Articles and Case Studies
A Diving Elective in Exotic Egypt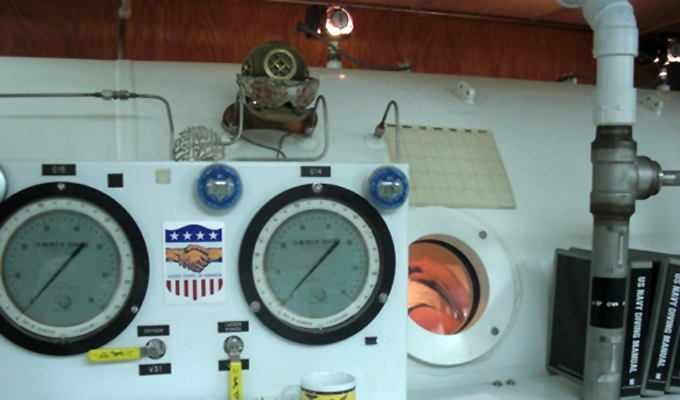 I was diving with a friend in the cold, cloudy water of the St Lawrence River in Ontario, Canada. The visibility was poor, and we were wearing 14mm wetsuits with cagoule and gloves. We encountered three grey fishes; one of which was floating dead. "Why don't you do an elective in diving, somewhere you could dive in beautiful warm water?" my dive buddy asked. That was it.
It took me less than a week to organise my elective. I had heard about The Electives Network and through their site, I found an elective in diving and hyperbaric medicine in Sharm el-Sheikh, in Egypt. Diving in the Red Sea – for a Canadian, that's the dream! I called the Hyperbaric Medical Center directly and talked with the director, Dr Adel Taher. He generously accepted my application and suggested I start preparing by reading the "Diving and Subaquatic Medicine manual" from Edmonds and Lowry. I read it avidly from cover to cover.
At the Hyperbaric Medical Center
On my arrival in Sharm el-Sheikh, I was welcomed warmly by Dr Taher, Dr Ahmed Sakr and all the staff members. My accommodation was a lovely house on the grounds of the medical center. I was the only student there during my elective, but the house could accommodate up to four students at the time. Everyone was very keen to help me with anything I needed.
There were two hyperbaric chambers at the medical center. The oldest was inaugurated in 1993 and is a manually driven chamber. Although there has been a newer multiplace and computerised chamber available since 2013, the old one is still the most used. During my elective, I was also able to visit the Sinai Clinic where the patients are hospitalised, if needed.
Working with the hyperbaric chamber
On a typical day during my elective, I would wake up early and go for a jog, do my yoga, and briefly revise my Arabic. Then I would spend the day (10.00am to 6.00pm) at the Hyperbaric Medical Center where the hyperbaric chamber is located. I would help with the medical evaluation of the divers sent by the different dive shops when the holiday makers report a health issue on their medical certificate.
The medical evaluation consisted of cardio-pulmonary and ENT evaluations (one of the most common health related issue with diving is ear barotrauma). We would perform a good history and physical examination of the diver to evaluate their risk of diving injury and then spend some time advising them. For example, some pre-existing conditions such as diabetes and asthma expose the diver to an increased risk of diving related injury. Dr Ahmed Sakr, one of the physicians of the chamber also had paediatric training, and I had the opportunity to assist him in paediatric consultations.
After the chamber had closed for the day, we would all be on-call for diving emergencies. At night, I had time to study and would discover delicious Egyptian food with the staff. Even though I was working every day with Dr Taher and Dr Sakr, I took some time to dive in the Red Sea which is absolutely magnificent!
Dealing with a diving emergency
One evening, I received a call from Dr Taher; we were expecting a 50-year-old woman who was thought to be affected by decompression illness. On the third day of diving on a Safari boat, 10 minutes after the end of the fourth dive of the day, she started to have a headache and felt dizzy. She was unable to maintain balance and was vomiting profusely. Her arms were tingling and they gave her 100% oxygen on the boat. Within three hours of the onset of symptoms, the Search and Rescue team had been to get her by speedboat from the Live Aboard boat to bring her to the beach where I was waiting for her with the ambulance. We brought her rapidly to the hyperbaric chamber. On evaluation, she had a left rotatory and left horizontal nystagmus; she had dysmetria and was unable to perform the gait evaluation because of the vertigo; and she had severe nausea and vomiting.
We confirmed the diagnosis of vestibulo-cochlear decompression illness. We performed the first hyperbaric oxygen therapy in the chamber that night, from midnight to 6.00am. This consisted of a US Navy treatment table 6, which involved bringing the patient to 60 feet over 285 minutes and giving her 100% oxygen in several intervals. We continued the treatment with one session of hyperbaric oxygen modified therapy (which is shorter than the USN TT6) per day for a total of five treatments in the chamber. I had the opportunity to operate the chamber and to be the attending physician in the chamber with the patient. After each session, her neurological exam improved and, by the fifth day, she was totally asymptomatic! It was very rewarding to see her smiling while performing a tandem gait perfectly before discharge.
A rewarding opportunity
I learned a lot during this elective and I'm grateful for all the teaching I received from Dr Taher and Dr Sakr. They shared with me their passion with generosity and patience. I improved my skills in otoscopy and neurological examination. I learnt a great deal about the physiology of diving and hyperbaric medicine. This elective has been a life-changing opportunity for me. I would recommend it to any medical student who is genuinely interested in diving and hyperbaric medicine.
Emilie Lefebvre
Family Medicine Resident
McGill University, Canada
The Electives Network (TEN)

This article was provided by The Electives Network (TEN), an online resource providing all the assistance you need to plan your dream elective. TEN gives you personalised support and access to the latest information, interactive tools, case studies and much more.

As a Member of MDA National, you have free access to TEN. So take advantage of this opportunity to make your elective a truly memorable experience!
Employment Essentials
,
Sports Medicine