Articles and Case Studies
Champion Effort for Champion Swim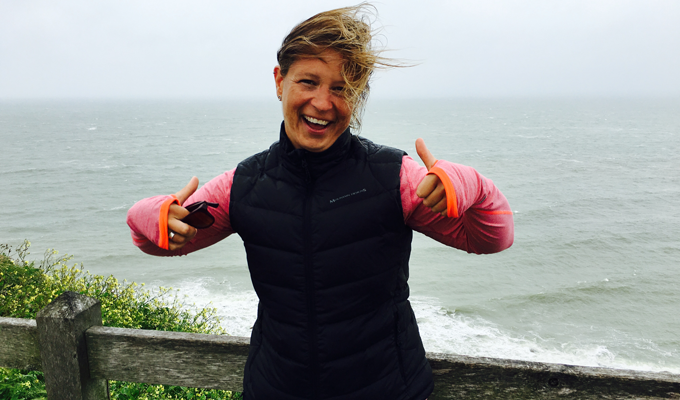 How do you mix medical studies and a superhuman level of exercise? Meet medical student Julie Isbill who completed the amazing feat of swimming the English Channel this year, in addition to her medical studies.
Tell us a little about yourself.
Swimming is in my blood. My father swam for England and I think he passed that passion on to me. I grew up in Norfolk, England. I learned to swim as a child, joined the local swimming club and have kept swimming ever since. I always wanted to study medicine, but didn't do quite well enough at school. So I obtained a degree in applied biology in an effort to earn some money.
After a few different careers, I ended up in Australia in 1998. While living in Sydney, I set up a voluntary ocean swim group called Bold and Beautiful where members swim at 7.00am, 365 days a year. This group now has 12,000 participants. I realised I couldn't just swim every day for the rest of my life, but the only other thing I really wanted to do was study medicine. So I sat the GAMSAT entrance exam, and I'm now in my fourth and final year of medicine at the University of Notre Dame in Fremantle.
Tell us about what has motivated you.
In Perth, there is an annual Rottnest Channel swim (20km one way) which I've completed six times in the official event and twice outside. Last year I swam to Rottnest and back for an extra challenge, being the twelfth swimmer to ever complete this, totalling 10 solo Rottnest crossings. When I was sitting my third year exams, Michael Leith, a fellow student from the fourth year who kindly accompanied me on the return leg of my double, told me he wanted to swim the English Channel – and asked if I would consider doing it at the same time. This was something that had always been at the back of my mind, and after some deliberation I committed to it. Ironically, Michael didn't!
What was your training schedule like?
Strictly speaking, it took 16 weeks to train for the swim. But in another sense, I've been training for it all my life. I signed up with coach Vlad in Sydney, who was inspirational. He wrote a program for me – four days a week in the pool, one day in the ocean and two rest days. I hadn't been in the pool for years! Pool training was in 5–8km sessions and the ocean swim was a long swim of 3–8 hours. In April, I went to Melbourne for Vlad's four-day cold water swimming camp with the aim of spending at least eight hours in water less than 16 degrees, to qualify for the Channel and get used to cold water.
And the Channel Swim…
I was lucky that my partner came with me, and also two friends, one who had paddled for me on my Rottnest swims and for a lot of my long training swims. One of the first things I did after arriving in Dover was have a dip at the beach. That's when it hit me how different the Channel Swim is from any other swim, and the reality started to sink in.
For one thing, any other swim will be on the date that it's scheduled. With the Channel Swim, you have to get there a couple of days early and you have a window. My window started from midnight Friday 24 June. I had a couple of false starts where the team would get everything ready and then we'd get a call saying it was a "no go". This starts to mess with your head, so on the Saturday we went for a little day trip, not too far away in case the weather changed, but just to get out of Dover. Then Sunday was a complete blank!
On Monday 27 June, we were told it was full steam ahead for that afternoon. I started at 4.00pm. Swimmers are told not to look back – but I did, just once, to take in the awe-inspiring white cliffs. After that, the sea was really rough for six or seven hours – I kept going down the face of the waves and the guys on the boat were saturated from the knees down. It started off as exciting and fun, but became unsettling as darkness fell and the lights were shining on the boat.
I had never swum through the whole night before. At that point, I relaxed, telling myself not many people get to do this. Well into the night, I could see the lighthouse at Cape Gris Nez on the French coast, but I had no concept of distance and then found out the tide had changed and that we had to head for another beach. It would take another 1.5 hours, so I had to dig deep. I had something solid to grip onto now. This was what I had trained for. After a sprint finish, I arrived at 5.20am, picked up a pebble from the beach, and climbed back into the boat to go back. A momentous occasion!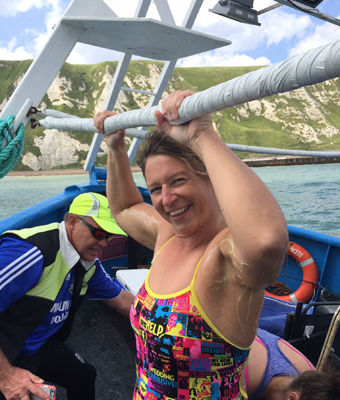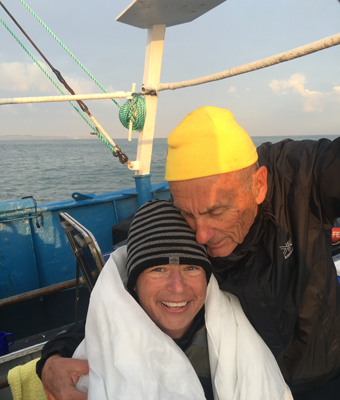 How did you combine training and medical studies?
This was one of my main issues! At Notre Dame, "honours" is a separate research unit on top of one's fourth year study load. I had done well and was eligible for honours, but I thought it would be unwise to attempt both Honours and the Channel. The Channel won!!
Thankfully, the training was a finite period as it only took 16 weeks. I'd be at the pool at 5.30am when it opened – swimming was my "morning thing" – after which I'd consume some high energy food in the car, then head off for a ward round at my placement. There was no such thing as spare time!
Any final thoughts?
I could not have done this without the support of my partner and friends, Vlad and my fellow swimmers. Being in Dover with the other swimmers was a unique experience, one I'm grateful for. Also, I think that no matter what life throws at me, I've swum the Channel and that's a big achievement. Completing honours would have been hard work, but not nearly as much fun. Being a little bit crazy helps too!
Julie Isbill
Final Year Medical Student
The University of Notre Dame Australia, WA
Check out Julie's video and related media articles.