Articles and Case Studies
Mandatory Reporting of Health Practitioners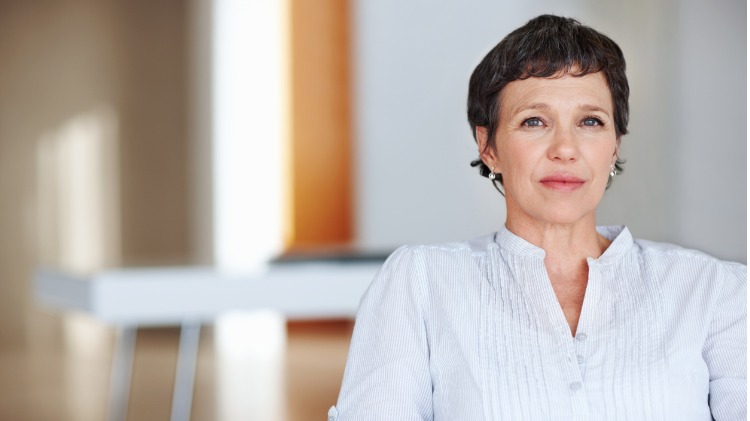 All registered health practitioners have a legal obligation to report any other health practitioner who has behaved in a manner that constitutes notifiable conduct.
What is notifiable conduct?

Section 140 of the National Law defines notifiable conduct as when a practitioner has:

a) practised the practitioner's profession while intoxicated by alcohol or drugs; or

b) engaged in sexual misconduct in connection with the practice of the practitioner's profession; or

c) placed the public at risk of substantial harm in the practitioner's practice of the profession because the practitioner has an impairment;* or

d) placed the public at risk of harm because the practitioner has practised the profession in a way that constitutes a significant departure from accepted professional standards.




*Section 5 of the National Law defines impairment for a practitioner as meaning a person has a physical or mental impairment, disability, condition or disorder (including substance abuse or dependence) that detrimentally affects or is likely to detrimentally affect a person's capacity to practise the profession.
Who is required to report notifiable conduct?
The mandatory notification obligation applies to all registered health practitioners and employers of practitioners. For practitioners who are reporting notifiable conduct, a reasonable belief about the conduct or impairment must be formed in the course of practising the profession (see the section on reasonable belief below).
The obligation to report applies to practitioners in all health professions, not just those in the same profession as the practitioner. It also applies where the notifying practitioner is the treating practitioner for a practitioner-patient, except in Western Australia and Queensland in certain circumstances (see the section on exceptions below).
There is also a mandatory obligation for education providers and health practitioners to report a student with an impairment that may place the public at substantial risk of harm.
What is reasonable belief?
The following principles are drawn from legal cases which have considered the meaning of reasonable belief:
1. A belief is a state of mind.
2. A reasonable belief is a belief based on reasonable grounds.
3. A belief is based on reasonable grounds when:
a) all known considerations relevant to the formation of a belief are taken into account including matters of opinion, and
b) those known considerations are objectively assessed.
4. A just and fair judgement that reasonable grounds exist in support of a belief can be made when all known considerations are taken into account and objectively assessed.
A reasonable belief requires a stronger level of knowledge than a mere suspicion. Generally, it would involve direct knowledge or observation of the behaviour which gives rise to the notification or, in the case of an employer, it could also involve a report from a reliable source(s). Mere speculation, rumours, gossip or innuendo are not enough to form a reasonable belief.
A reasonable belief has two elements:
an objective element – that there are facts which could cause the belief in a reasonable person
a subjective element – that the person making the notification actually has that belief.
A notification should be based on personal knowledge of facts or circumstances that are reasonably trustworthy and that would justify a person of average caution, acting in good faith, to believe that notifiable conduct has occurred or that notifiable impairment exists. Conclusive proof is not needed.
The professional background, experience and expertise of the practitioner, employer or education provider will also be relevant in forming a reasonable belief.
Are there any exceptions to the requirement to make a mandatory notification?
The exceptions relate to the circumstances in which the health practitioner forms the reasonable belief. They arise where the practitioner who would be required to make a notification:
a) is employed or engaged by a professional indemnity insurer, and forms the belief because of a disclosure in the course of a legal proceeding or the provision of legal advice arising from the insurance policy
b) forms the belief while providing advice about legal proceedings or the preparation of legal advice
c) is exercising functions as a member of a quality assurance committee, council or other similar body approved or authorised under legislation which prohibits the disclosure of the information
d) reasonably believes that someone else has already made a notification
e) is a treating practitioner, practising in Western Australia; or
f) is a treating practitioner, practising in Queensland in certain circumstances.
In Western Australia, practitioners are not required to make a mandatory notification when their reasonable belief about misconduct or impairment is formed in the course of providing health services to a health practitioner or student.
In Queensland, practitioners are not required to make a mandatory notification when their reasonable belief is formed as a result of providing a health service to a health practitioner, where the practitioner providing the service reasonably believes that the notifiable conduct relates to an impairment that will not place the public at substantial risk of harm and is not professional misconduct.
How do I make a notification?
In every state and territory except Queensland, notifications should be made to the Australian Health Practitioner Regulation Agency (AHPRA) which will then refer the notification to the relevant National Board. In Queensland, notifications are made to the Office of the Health Ombudsman.
The notification should include the basis for making the notification – i.e. practitioners, employers and education providers must document the reasons for the notification, including the date and time they noticed the conduct or impairment.
You can make a notification on the AHPRA website.
Am I protected if I make a notification?
The National Law protects practitioners, employers and education providers who make notifications in good faith (well intentioned or without malice). Section 237 of the National Law provides protection from civil, criminal and administrative liability, including defamation. Making a notification is not a breach of professional ethics or a departure from accepted standards of professional conduct. Legally mandated notification requirements override privacy laws and confidentiality.
What if I fail to make a notification?
There are no penalties prescribed under the National Law for a practitioner who fails to make a mandatory notification. However, a practitioner who fails to make a notification when required to do so may be subject to action by their registration Board.1
If AHPRA becomes aware of a failure by an employer to notify notifiable conduct, it must give a written report about the failure to the responsible Minister for the jurisdiction in which the notifiable conduct occurred. As soon as practicable after receiving such a report, the responsible Minister must report the employer's failure to notify to a health complaints entity, the employer's licensing authority or another appropriate entity.
What are mandatory notifications about and what are the outcomes?
In 2014/15, mandatory notifications comprised 10% of the 8,426 notifications made to AHPRA about health practitioners.2 Interestingly, this represented a 27% reduction in the number of mandatory notifications received in the previous 12 months.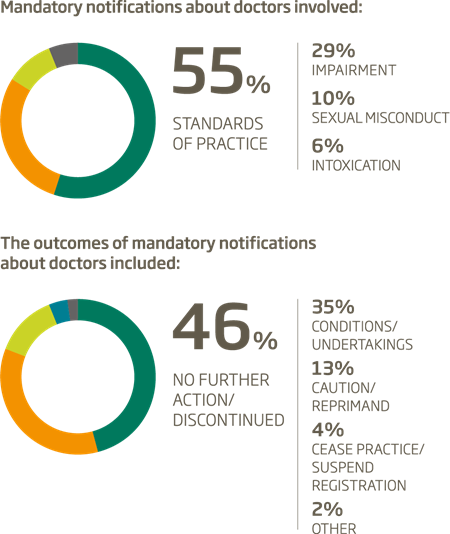 The content of this article contains summarised information from the AHPRA National Board Guidelines for Registered Health Practitioners: Guidelines for Mandatory Notifications. March 2014. Available at: ahpra.gov.au/News/2014-02-13-revised-guidelines-code-and-policy.aspx
See the article Mandatory Reporting – Impairment Explained for a detailed explanation of the mandatory reporting of "impairment".
References
See case study article: McMahon, K. Failure to Make a Mandatory Notification. Defence Update Winter 2015:15.
Australian Health Practitioner Regulation Agency. AHPRA Annual Report 2014/15, pp.35-45. Available at: ahpra.gov.au/annualreport/2015/
Doctors Health and Wellbeing
,
Regulation and Legislation
,
Anaesthesia
,
Dermatology
,
Emergency Medicine
,
General Practice
,
Intensive Care Medicine
,
Obstetrics and Gynaecology
,
Ophthalmology
,
Pathology
,
Psychiatry
,
Radiology
,
Sports Medicine
,
Surgery
,
Physician
,
Geriatric Medicine
,
Cardiology
,
Plastic And Reconstructive Surgery
,
Radiation Oncology
,
Paediatrics
,
Independent Medical Assessor - IME