Articles and Case Studies
My Military Elective in the UK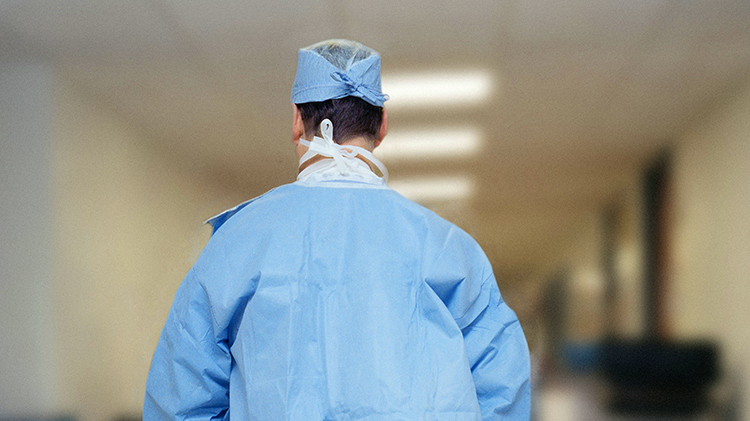 Iyare Nehikhare describes his "military elective" placement in the UK at the Queen Elizabeth Hospital Birmingham (QEHB) while studying medicine at the University of Glasgow Medical School.

During my four-week placement at QEHB, I sub-specialised in military Trauma and Orthopaedics (T&O) and maxillofacial surgery. QEHB provides the largest critical care department in the world with 100 beds, is a high functioning level 1 trauma centre and the primary receiving hospital for the UK's military casualties, as well as an active research centre and teaching hospital.
Planning my elective
I started with pen and paper, asking myself five initial questions:
What do I want to do?
An active elective with lots of hands-on experience.
Where do I want to go?
Stay in the UK to save money.
How much time do I have?
Four weeks.
What will I actually do?
Observe, attend surgical skills course, improve history taking and examination skills, and assist in theatre.
How much will it cost?
Elective administrative fee, transport, accommodation, surgical skills course, food and miscellaneous expenditure.
Initiating contact
Ahead of my June/July elective, my first email went to Prof Steve Jeffery – a lieutenant and colonel in the military who specialised in burns, plastics and trauma surgery. He replied back providing a number of carefully chosen doctors and surgeons for me to spend my elective placement with.
I chose T&O, and once my elective was confirmed the logistics were organised with the Office Manager for T&O. Well-furnished accommodation was available at the Selly Oak Hospital, a short bus journey from outside the QEHB. In addition, the nearby Centre Club, a modern gym and fitness facility, was easily available to residents of this accommodation at an affordable fee.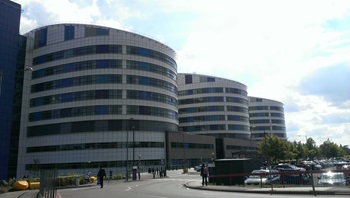 The Queen Elizabeth Hospital Birmingham
A fully packed timetable
My elective was split between orthopaedics and maxillofacial surgery, which meant my schedule was packed. My day would begin at 0730 with an orthopaedic or max-fax trauma meeting. A comprehensive analysis of the injury would be investigated, x-rays and fracture patterns explained and operation techniques discussed.
The rest of the day would be spent in pre and post-op clinics, on ward rounds, in A&E with the trauma team, in teaching, with radiology or in theatre. There was a full and active timetable provided by the military and max-fax teams ensuring that I had an invaluable experience, which matched the reputation of the QEHB.
During the ward round, I was encouraged to take histories and examine patients; then give feedback to the team and discuss investigations and management. Attending an ASIT surgical course during my elective meant when the opportunity came to suture lacerations in A&E and assist in surgery with the max-fax team, I felt confident and witnessed improvements as the weeks progressed. My first attempt united the margins of a two-inch laceration on a teenage male who had been stabbed in the shoulder. However, my forehead perspiration and mild tremor didn't go unnoticed by the A&E nurse!
Military day
Tuesday was the designated military day. I met K, an aircraft commander, who presented to the military clinic hopping on her left leg with the support of a crutch. She was six weeks post-op following a skiing injury. She was noticeably distressed and explained how her crippling injury had affected her ability to look after her children. I was able to assess her injuries and document them. The art came in reassuring her that hope was not lost; that she was in good hands; and that she was allowed to cry as her despair was exchanged for supportive words and a pragmatic plan from doctors and physios.
Two weeks later I stood in theatre as K received her reconstructive knee surgery. The previous metal work was removed. The valgus deformity corrected. The lateral tibial plateau fracture restored and the leg realigned – a meticulous operation to observe. Later that week when I spoke with K post-op, her happiness and optimism for the future mirrored her smile. I listen to her intensive rehabilitation plan from the physio team with resources and facilities to maximise her recovery. Whether she would return to skiing and triathlon competitions was unknown to me, but I believe the ability to be back on her feet to play netball with her daughter would make a big difference to K's quality of life. Witnessing the initial consultation, operation and the post-op rehabilitation provided a valuable insight into the treatment pathway of a trauma case.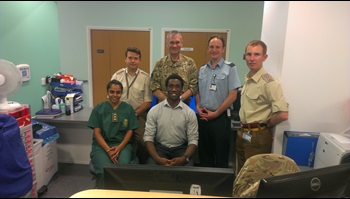 Iyare with the team at QEHB
A great learning experience
The elective was a great learning experience with the range of disciplines I was encouraged to shadow. I could watch a trauma case arrive via air-ambulance to A&E, assist in the initial assessment and follow the patient to radiology; then the following day, listen to the operation plan from the surgeons in the trauma meeting. This continuous teaching kept me engaged and provided some of the most effective learning experiences during my elective.
High levels of trauma came through A&E which at times was overwhelming, especially when attributed to community violence. But the hospital was well equipped with fantastic staff and facilities to manage the casualties that presented. The days were long, but I had an incredible time and would highly recommend this elective to anyone who wants to experience a unique insight into the military perspective of healthcare management within one of the UK's top hospitals.
Iyare Nehikhare


The Electives Network (TEN)

TEN is an online resource providing all the assistance you need to plan your dream elective. TEN gives you personalised support and access to the latest information, interactive tools, case studies and much more. As a Member of MDA National, you have free access to TEN. So take advantage of this opportunity to make your elective a truly memorable experience!
Employment Essentials
,
Surgery