Articles and Case Studies
Don't Sweat the Small Stuff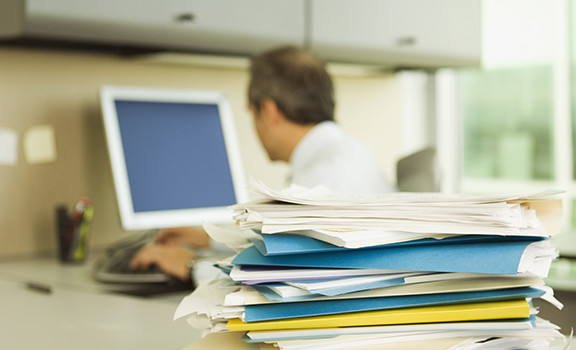 Much of what we do as part of our Claims and Advisory Services is obvious – dealing with complaints about doctors, disciplinary issues, investigations, coronial matters, employment disputes and claims – the sorts of events I term the "scary stuff".
These are quite reasonably of great concern to doctors, given the possible impact on their patients as well their own personal wellbeing and professional reputation. With these events, we would open a file as the matter may incur costs to resolve on your behalf.
However, these sorts of matters only represent about one third of calls from our General Practitioner and other specialist Members, and only a quarter of calls from our doctor in training Members.
What do you – our doctor in training Members – call us about?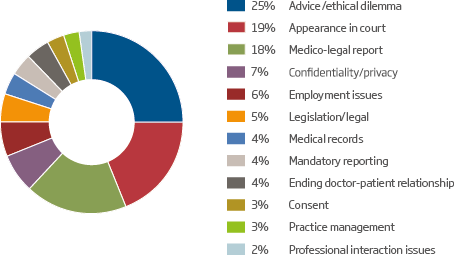 Medico-legal Advice by Subject – Doctor in Training Members
Our doctor in training Members call us for a wide variety of reasons (as shown in the graph above) – the top five reasons are outlined below.
1. Advice and ethical dilemmas

Half of these calls are to discuss concerns relating to patient care, and often involve us providing support to our Members during adverse events and working through how the issue will be managed. The remainder of these calls relate to a wide range of ethical dilemmas:
You're aware of a prior missed diagnosis, but the patient is not – do you disclose this?
Your car is stolen, along with your bag containing patient lists and your script pad – what do you do?
Your friend wants a script and advice, and you're concerned about doing this – should you go ahead?
A patient asks you not to document their illicit drug use history in the records – what do you write?
How do you deal with Good Samaritan queries?
You've been asked to sign a document for a patient and you're concerned about the consequences.
2. Appearance in court

Usually, these matters relate to when you've been requested to prepare a police statement or appear in court. We're happy to review these statements or provide you with an idea of what appearing in court might entail.
3. Medico-legal reports

You've been asked to prepare a report and need help, especially if it's the first time you're doing this. We have templates to help you with this and can also review your documents.
4. Confidentiality and privacy

These calls usually relate to requests for information by patients or the need for a doctor to contact a third party without the consent of a patient.
5. Employment issues

Issues related to rostering, hours and leave are commonplace for junior medical officers. Being able to talk through these issues is important, and our AMA and Union contacts can often be of further assistance. Dealing with colleagues can also be a matter that requires advice.
It doesn't have to be a scary problem to call us
"Fear is a darkroom where negatives develop."
– Usman B Asif
As you can see from the above matters, we provide much more than just advice for the times when things go wrong. So you don't need to have a "scary" problem to call us. We also provide a useful impartial ear to discuss medical practice related questions and dilemmas. Some of our most memorable calls relate to the discovery of such unforeseen quirks – did you know that an indefinite Medicare referral can last for eternity… even after you die?
Equally, if you find yourself facing a more serious problem, we encourage you to contact us as soon as possible. Early intervention will often afford a wider array of options that may not be available later. No matter how concerning, embarrassing or unsurmountable the problem may seem, we are available to work with you. Chances are we've provided assistance to someone with similar problems in the past.
Your "phone a friend" lifeline
Our Medico-legal Advisers are very experienced and also have immediate access to the wide array of experienced staff at MDA National – including risk managers, external solicitors, specialist doctors and allied health staff. We have also established links with a range of external bodies, e.g. specialist law firms; industry groups such as AMA and Unions; individual doctors; investigative bodies; and the Australian Health Practitioner Regulation Agency (AHPRA).
So even if we don't know the answer to your query, we're likely to be able to point you in the right direction or find out more information on your behalf. We like to say it's the medico-legal equivalent of a "phone a friend" lifeline.
So don't sweat the small or big stuff – just call us. We're here to support you.
DID YOU KNOW…

Any communication to and from MDA National– such as file notes of discussions, emails and correspondence – should not be recorded in a patient's medical record.

Our Medico-legal Advisory Service operates on weekdays from 8:30am to 8:00pm (AEST), with access to emergency advice 24 hours a day. Members can call
1800 011 255 or use our dedicated email portal: advice@mdanational.com.au.
Dr Julian Walter
Medico-legal Adviser
MDA National
Employment Essentials
,
Anaesthesia
,
Dermatology
,
Emergency Medicine
,
General Practice
,
Intensive Care Medicine
,
Obstetrics and Gynaecology
,
Ophthalmology
,
Pathology
,
Psychiatry
,
Radiology
,
Sports Medicine
,
Surgery
,
Physician
,
Geriatric Medicine
,
Cardiology
,
Plastic And Reconstructive Surgery
,
Radiation Oncology
,
Paediatrics
,
Independent Medical Assessor - IME