Articles and Case Studies
My Cook Island Adventure

Rarotonga has a population of 14,000 people and 4,500 others live in the outer Cook Islands. Two hospitals serve the population, the largest one being in Rarotonga. Aitutaki has a small 49-bed hospital and the other islands have medical clinics run by GPs.
Around 300 cases a year are referred from the outer islands to Rarotonga – these would be patients whose illnesses need to be treated in a hospital setting or those who need oxygen or other adjuncts not available on the remote islands. Patients who require more intensive medical care or have a tumour are referred to New Zealand.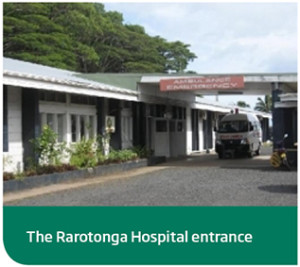 Rarotonga hospital has 70 beds to accommodate for a range of specialties including medicine, surgery, paediatrics, obstetrics and gynaecology, and psychiatry. During my four weeks there, I met one psychiatric patient and there was only one paediatric patient per week. The medical ward, where I spent most of my time, had an average of 15 patients per day and the surgical ward had around eight patients. There was one doctor for the medical ward and one surgeon who were both on call 24/7. They occasionally had a visiting doctor from New Zealand or an outer island to help them. There was also one paediatrician, one psychiatrist and two gynaecologists.
The hospital offered services such as physiotherapy, ophthalmology check-ups and they had one X-ray machine. An outpatient clinic was run by four doctors (similar to GPs) who saw patients with appointments and also any emergencies that came into the hospital. These doctors also ran the X-ray department.
I spent my four weeks split between the medical ward and the outpatient department. During my time in outpatients, I ran a clinic myself seeing children and adults. Once I had taken a history and examination, I was to formulate a diagnosis and management plan – and if a doctor was free they would double check my prescription. This was very daunting at the start as I didn't feel confident and knowledgeable enough to make the right diagnosis and chose the right medication, if needed, for most cases. Sometimes the doctors would quickly agree with my decisions without hearing the full history and I was worried I may have been wrong. For this reason, I only saw the patients whose symptoms I recognised so that I was able to make the correct diagnosis. When I recognised that cases were out of my depth, I took a step back and let the doctor take those consultations.
I had less responsibility on the medical ward and spent my mornings on the ward round. There were four students altogether on the ward along with the doctor and many nurses. We wrote in the notes and examined a few patients. The nurses would do all the other jobs, so we never got the chance to cannulate, take bloods or catheterise. After the ward round, about 11:00am, we would enter our handwritten notes into the computer system and our day would be finished. Every Wednesday, there was a grand round in which each specialty presented all their patients to the rest of the hospital staff. The students got to present the cases from our ward and this was a great chance to improve our skills and confidence in presenting to a large audience.
I expected to see tropical diseases and other illnesses that we don't get in the UK. However, nearly every patient was in hospital with cardiovascular problems or diabetic complications. Traditional "Western" diseases had arrived in the Cook Islands as the population became westernised and no longer lived as their Polynesian ancestors did. The majority of the population are obese with Type 2 diabetes and heart problems secondary to this.
Diabetic control is a major problem in the Cook Islands and every diabetic patient I met had a very high blood glucose level. The patients didn't take their medication and ate a diet high in fat and sugar. Due to this poor control, many suffered from complications such as renal failure, ischemic heart disease and stroke. I learned that the lack of education was the main reason for this and the Ministry of Health was working on new ways to help educate the medical staff and doctors.
About a third of the patients on the medical ward didn't need to be there. Due to a lack of social services on the island, families are expected to look after elderly and sick family members. If a patient has no family or no one available to help 24/7, they basically live in the hospital until a solution is found.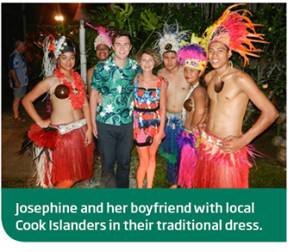 Once my day in hospital had finished, I was free to explore the island and learn about their Maori culture. I went to traditional dance nights where the locals would wear their traditional clothing and teach us about each dance, telling us how it symbolised a specific event in their ancestors' history. I spent each Saturday morning at the local market eating coconuts and papayas for breakfast and admiring the local arts and crafts. I also got the chance to take a scuba diving course on my weekends and got my qualification to scuba dive wherever and whenever I want.
I was very lucky to be in Rarotonga for Te Maeva Nui, a week-long celebration of the Cook Islands independence from New Zealand. During this week, there were extra dance shows, local food markets and a massive float parade. We got the chance to help the hospital staff decorate their float and watch as all the floats drove through the town to show off their creativity. It was amazing and I learnt a lot about the history of the Maori people and how they used to live and forage on the island.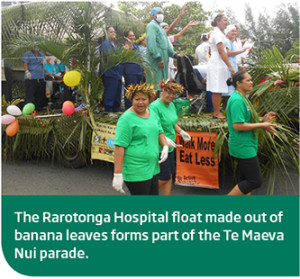 Overall, I had an unforgettable experience in Rarotonga. My time spent in hospital was fun and I learnt a lot. An experience like this at a hospital with little resources makes you appreciate what you have back home. Out of the hospital, I felt really welcomed on the Island by everyone I met. I don't think I've ever met such a friendly bunch of people anywhere else. I fell in love with the island, the clear blue waters, the people, their relaxed way of life… and I'll most definitely return one day!
Josephine Campbell
Glasgow University, Scotland, UK

The Electives Network (TEN)

TEN is an online resource providing all the assistance you need to plan your dream elective. TEN gives you personalised support and access to the latest information, interactive tools, case studies and much more. As a Member of MDA National, you have free access to TEN.
So take advantage of this opportunity to make your elective a truly memorable experience!