Articles and Case Studies
A Sri Lankan Adventure
UK medical student Alex Johnson spent August and September last year at
Lady Ridgeway Children's Hospital
, a paediatric hospital in Sri Lanka. She tells us about her experience there and offers some tips to others thinking of Sri Lanka as an elective destination.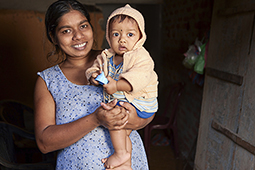 Getting the most out of your elective
An elective means different things to different people. Some want to experience the health care of a developing country, and be given more responsibility than they would in the their own country. Some just want a holiday with as little hospital contact as possible. I wanted to combine the two and have a holiday while learning about the health care and culture of a different country. I chose Sri Lanka because I could do both – I would spend my mornings in the hospital, then spend my afternoons by the pool or beach.
The hospital
During the week we would arrive at the paediatric hospital at 8.OOam after a 20 minute tuk tuk ride. Ward rounds are different over there. Firstly, there are about 30 people on them, and at each bed every student must examine the child, no matter how unwell they are. Secondly, the round of questioning that follows each patient can last anywhere between 10 and 30 minutes.
Different cases
I saw many interesting cases to which I would never have been exposed in the UK. One child had erythema nodosum, which they suspected was secondary to TB. Another young boy had such severe nephrotic syndrome that he couldn't see for the amount of oedema around his face. There were countless babies who were suffering from malnutrition, something I had never encountered before. This really got to me, as these mothers would be sent back to their one-roomed homes which they shared with three other families and the circle would continue.
One case that stood out was that of a young girl with a large submandibular swelling who was brought into hospital. She had no other symptoms. In countries like Sri Lanka they have to be very selective about the tests that they do. Because of the cost, they only perform tests that will aid them directly in the diagnosis. Therefore all of the blood tests were skipped and they went straight in for a biopsy.
I was devastated to find out that this girl I had spent hours playing with had late stage Hodgkin's Lymphoma. The prognosis was bad, and nothing would be done for her as her family could not afford the treatment. I asked to speak to the family and was told it wasn't possible as they didn't know yet. They weren't going to tell them until the following week as "it wouldn't change her prognosis". This was the norm over there. They wanted to give families a few more days of happiness before their world was shattered. That case will stay with me forever.
The elective experience
My elective was not an easy one, but I would recommend it again and again to anyone who wants to discover a completely different healthcare system from their own, while having the opportunity to live in paradise. I had the holiday of a lifetime, and came back a better doctor.
Things to see in Sri Lanka

The tea plantations – The country is full of them, so it won't be difficult to find one. Price – free.
A tea factory – Our guide just stopped at one in between sights and it was lovely. You even get to try all of the tea at the end for free.
Galle – This Dutch fort is like nothing else in the county. Within the walls of the fort there are dozens of boutique B&Bs, quirky shops and delicious cafes. There is even a stunning beach on site, and just a short tut tuk ride away is Unawatuna, one of the best beaches in the country. Price – free.
Kandy – a beautiful historic city with many things to do.
Mount Sigiriya – a huge rock in the middle of one of Sri Lanka's largest heritage sites. The view is worth the thousands of steps you need to climb to get to the top. Just check whether it is open before you go. Occasionally someone will disturb one of the hornets' nests by accident and they will have to close Mount Sigiriya for a few days. Price – 3900 Rs (about $34).
The Temple of the Tooth – a beautiful temple which contains a tooth from Budda. Price – 1000 Rs (about $9).
Royal Botanical Gardens – a national park full of beautiful scenery and wildlife. Watch out for the monkeys if you plan to eat in the gardens. Price – 1100 Rs (about $10). Cheaper with a student card.
Dambulla Cave Temples – ancient cave temples that are definitely worth a look. Price – 1500 Rs (about $14).
Elephant Orphanage – There were dozens of elephants here, and for a small fee you can feed one of them. At certain times of the day you can also walk with them down to the river where they bathe. Price – 2000 Rs (about $18).
Travel tips

Do not walk anywhere on your own, especially if you are female. Take a taxi or a tuk tuk – they are very cheap.
Do not be alarmed if locals ask to have a picture taken with you. It happened daily to us!
Take a photocopy of your passport with you everywhere – the police tried to arrest me because I didn't have mine on me. It turned out they just wanted money. It pays to know someone who is local who can help you out in times like this.
Eat out every day! It is cheap, and Sri Lankan food is delicious. In a local restaurant, curry and rice for two will cost you $1 each. In the five star hotels, you can get a rump steak and desert for about $8. Take advantage!
Do not drink the tap water.
Stay with a local if possible, as you will learn more about the country this way.
Swimming in the sea can be dangerous unless you are a good swimmer.