Articles and Case Studies
Medical Aid Work: A Truly Rewarding Elective Experience | MDA National Student eNews
Have you ever considered choosing an elective involving medical aid work? Ken Lee, an Intern at Sir Charles Gairdner Hospital has some valuable insights to share from his rewarding experience during his elective in Indonesia. He says, "For me, the biggest reward is to know that the projects I was involved in were making a genuine difference to people's lives. It's not often that we, as doctors, get the opportunity to be a part of such transformations – but with a few enquiries these rewards can easily be found."
Above: 18-month-old Desiana Putri awaits her cleft palate operation.
Clinic
Sanur, Indonesia, Sunday morning, 8:30am.
It's 36°C, hot and humid. The clinic with a Plastic Surgeon from Perth is in the grounds of the John Fawcett Foundation (JFF) and it's busy. We have 35 patients, each with their close relatives bringing the numbers close to 150. Some have travelled three to four days from nearby islands just to be here. By 9:00am, we've already booked nine complete cleft lips and a syndactyly procedure for surgery tomorrow, and it will be an increasingly busy schedule for Tuesday and Wednesday in theatre.
We work on getting those here today ready for surgery – making diagnoses, checking vitals and collecting details. The most recent patient stands out amongst them – a beautiful 18-month-old girl who was born with a bilateral cleft lip/palate to which she remains innocently oblivious. She is the second child in her family to be born with the condition. Her five-year-old brother has already had the operation that she's about to have. The before and after shots of his operation show that the cosmetic surgery repairs the congenital abnormality to look normal.
John Fawcett, now in his eighties, tells me the story of how they once found a 32-year-old man who had been living in solitude his entire life because of the same condition, working alone in the back shed of a mechanic workshop before retreating home each night. They managed to change his life completely with plastic surgery.
The Foundation grew from a number of rotary projects over 20 years ago, established by its namesake John Fawcett in Bali. It now has a number of ongoing projects which include sight restoration through cataract surgery and optometry services. These are delivered by way of five specialised trucks refitted as mobile eye clinics for cataract surgery which travel to all ends and areas of Indonesia, but based in Sanur.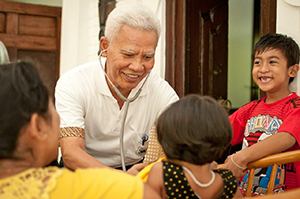 Above: Dr Wayan Sukra (Bali Senior Anaesthetist) doing a pre-admission clinic.
There is also the children's corrective surgery project, which covers the cleft lip and palates and orthopaedic surgery, along with other projects such as an educational assistance program; assistance for desperately ill children or young people; and supply of medical and surgical equipment to hospitals treating the poor and underprivileged. Today, nearly 40,000 people who were once blind can now see thanks to the Foundation's commitment to reversing cataract blindness.
Day of the operation
The steady chirping rhythm of the heart rate monitors bleep out across the theatre corridors. Nurses hurry themselves arranging trolleys with sterile instruments and bringing in surgical gowns from dated autoclaves as anaesthetists make final checks on equipment and supplies. I take note of how the ventilator bag has been split and repaired, then reduced in volume for paediatric surgery. I make a mental note to remember to find a 0.5 litre ventilator bag for the paediatric cases when I get back home. There are restless cries of waiting children being held and comforted by their anxious parents.
The Plastic Surgeon begins explaining the procedure, elaborating all the steps involved – how cuts are made, muscle tissue sewn and advancing flaps come together. A clear set of mental instructions that will guide him through the operation. I learn about the critical alignment of the white roll on the lip and the re-corrected midline attachment of the separated orbicularis oris muscles that had long taken their misdirections to the nasal alar base during development.
In Bali alone, 2000 children are born each year with cleft lip and palate deformities. The aim of JFF is not only to treat the children with deformities, but also to upskill the local medical and nursing personnel in the management of these patients. We had two theatres going all day.
Ward rounds
The next day on early morning ward rounds, the parents of the little girl with the cleft palate (from my first day at the clinic) were there to greet us, having spent the night on mats rolled out on the white tiled floors. Greetings of thanks and praised flowed; they were incredibly thankful to the surgeon and all the other doctors and nurses, saying how "incredibly generous" we were to donate our time and expertise. It felt so rewarding to see such a clear and definite need and be able to do something about it. It brought joy into the life of everyone involved and I've never felt so privileged to be a part of something.
Seeing kids with foodstuff constantly entering their nasal passages with recurrent infections and speech difficulties is terrible. These operations transform lives from destitution and disability to one of health and survival in the harsh economic climate of a country that isn't fortunate enough to have a safety net of social welfare and a universal healthcare system like Australia. So many of the people I met faced such hardships, and had a resilience and work ethic to match. Their optimism for facing tomorrow brightens my belief of how we can all find some time to work towards the betterment of humanity.
One week down – three to go
After the first week I went on to visit the Orthopaedic Department, go on ward rounds and attend clinics (a mix of pre-op, post-op, first presentation and follow-up of a sort) at the major public hospital, Sanglah Hospital Denpasar.
This was a fast track through some diverse cases in orthopaedics coming in constant fashion – complicated fractures from scooter/motor vehicle accidents, sarcomas, osteomyelitis and decompressive craniectomies. Far too many to explain in great detail here, but each a potential case report in its own right. Suffice to say medicine in a developing country is a true eye opener! My time there fortuitously coincided with a visiting Orthopaedic trauma/shoulder surgeon from Victoria. She rocketed through putting the Registrars through their paces on all these cases – assessing their thought processes, planning and management in the context of complexity and resource limitations, and all the while imparting valuable advice on fixation and management strategies.
From there I went out on a field trip, joining the mobile operations as two cataract surgery buses and health personnel left via ferry to service some of the cities and towns of Lombok for a week-long trip. We delivered a comprehensive eye health care service program in Mataram, Lombok, in cooperation with the Harapan Keluarga Private Hospital there for many of the local people not financially capable of accessing treatment. This three-day visit resulted in 728 patients screened, eyeglasses for 265 people, ophthalmological medication for 370 people and cataract surgeries performed on 95 people. This included two children from the Lombok blind orphanage presumed to be inoperably blind. Words cannot express how moving it was seeing the bandages coming off those children the day after the surgery.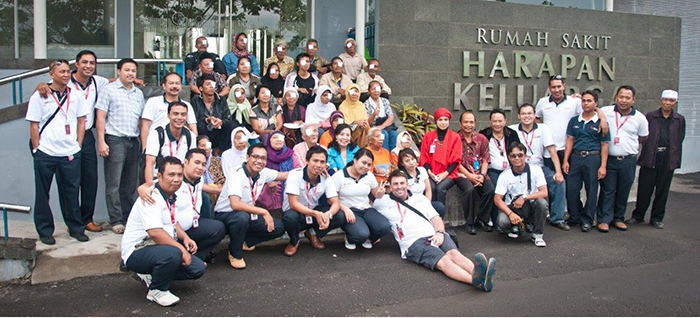 Above: Staff with patients who have just had eye surgery at the Harapan Keluarga Hospital.
Why go?
Medical aid work is demanding and not all aid work is beneficial, however well-meaning it may be. My recommendation to any student seeking a medical elective is to find something that is safe, with supervision and structure to it, and remember the key is to follow the principle of primum non nocere (first, do no harm).
For me, the biggest reward is to know that the projects I was involved in were making a genuine difference to people's lives. It's not often that we, as doctors, get the opportunity to be a part of such transformations – but with a few enquiries these rewards can easily be found. The smiles say it all and you can see your efforts have been worthwhile.
Ken Lee – MDA National Member
Intern, Sir Charles Gairdner Hospital, WA
Ken Lee was able to choose and plan his medical elective with the help of TEN – a one-stop online resource providing all the assistance you need to plan your dream elective. TEN gives you personalised support and access to the latest information, interactive tools, case studies and much more.

As a Member of MDA National, you have free access to TEN. So take advantage of this opportunity to make your elective a truly memorable experience!