Articles and Case Studies
Hope4health - Eliminating Health Inequality
Who would have thought that a venture initiated by a group of six medical students in 2006 would result in a prolific organisation with over 1000 members today, making a difference in local and international communities? Welcome to Hope4Health. Find out how you can be involved and benefit from their resources.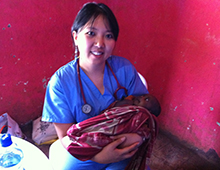 The origin of Hope4Health
Hope4Health is a student run non-profit organisation that aims to improve health outcomes for disadvantaged rural, indigenous and international communities. It was founded by a group of six students from the first medical cohort of Griffith University in 2006. It was initiated from the recognition that medical students were in a unique position to make a difference in their local and international communities.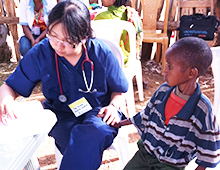 Above: A second year Griffith University medical student on an elective in Ethiopia assists in a busy clinic, utilising equipment donated by Hope4Health.
In its year of conception, Hope4Health began the Jazz Dinner Dance, a charity ball to raise money for the Watson Association's project to build the Daaba Medical Centre in Ghana. This charity ball has now become their premier annual gala event, raising $20,000 for a chosen charity each year. Over the last seven years, Hope4Health has grown exponentially into a prolific organisation which has spawned several international interest groups such as Ubuntu Through Health and the Sumba Project. It now has over 1,000 members from all health disciplines.
Promoting local, rural and international health
Hope4Health addresses the rural doctor shortage in Australia by opening the door to rural clinical skills trips for medical students who may be interested in rural health but lack the capacity to gain experience by themselves. Dental students are given the opportunity to visit rural and indigenous communities to provide free dental care supervised by dentists. Hope4Health also promotes rural and indigenous health through frequent high school visits by medical students to promote health careers in rural regions.
More recently, Hope4Health initiated a refugee health literacy group called the Healthy Start program which saw over 300 refugees educated by health students in Brisbane. The program allows students to work closely with refugees from various cultural backgrounds such as Somalia, Iraq, Iran, Sri Lanka and Burma. Initiatives such as Healthy Start provide medical students with cultural sensitivities and experiences that are beyond the scope of the medical curriculum.
Overall, medical students gain an increased awareness of local, rural and international health.
Assisting impoverished communities through medical electives
Hope4Health can also assist students planning medical electives by:
providing medical supplies and equipment to take to impoverished communities – a service provided by Student Elective Aid, a new initiative which collects excess medical supplies from Brisbane and the Gold Coast for use by medical students who go on electives to communities in need
providing links to other students who have previously completed similar electives.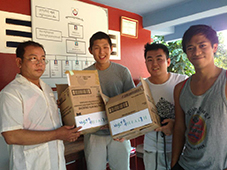 Above: Three medical students from Griffith University provide supplies to a small rural clinic in the outskirts of Siem Reap, Cambodia.
Interested in getting involved or finding out more?