Articles and Case Studies
Handover Challenges - Getting Your Message Across
Clinical handovers are high risk scenarios for patient safety. The primary objective of any patient handover is the accurate transfer of information about a patient's condition and care plan. This case study highlights how ineffective handovers can have serious consequences.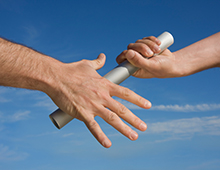 Case history
A 16-year-old patient was admitted to the Emergency Department (ED) with fever, headaches and dizziness in the early afternoon. The patient was seen initially by the RMO who noted a variety of vague symptoms including three days of diarrhoea, headache, vomiting, ongoing cough, bilateral leg pain and lower back pain. Physical examination revealed lower abdominal/suprapubic tenderness.
The RMO made a provisional diagnosis of a urinary tract infection and discussed the patient's presentation with the senior ED registrar and paediatric registrar. The RMO stated that he was advised to hold off antibiotics pending the results of urine and blood tests. Both the senior ED registrar and the paediatric registrar later denied this, and no reference was made to the discussion in the medical records.
The patient was later reviewed by the paediatric registrar who noted that her main complaint was lower central abdominal pain. The paediatric registrar was called away before she was able to complete her assessment of the patient or provide a management plan. The paediatric registrar asserted that the senior ED registrar had agreed to take over the patient's care during her absence, but this was later denied by the ED registrar.
The day shift paediatric registrar subsequently handed over the patient's case to the paediatric registrar on night shift. During handover, the day shift paediatric registrar asserted that she was informed that ED staff had been asked to organise further tests. The night paediatric registrar believed that his responsibility was to chase up the results and, depending on those results, to commence antibiotics. At the time of handover, no further tests had been collected. The night paediatric registrar organised a review by a gynaecology registrar; however this was not considered urgent.
Later that evening, the night paediatric registrar was alerted to a rash around the patient's neck by the patient's mother. Two hours later, the patient's condition deteriorated and she suffered a cardiac arrest and died. The cause of death was found to be Neisseria meningitidis septicaemia.
Discussion
As this case study highlights, clinical handovers are high risk scenarios for patient safety. Clinical handover is defined as "the transfer of professional responsibility and accountability for some or all aspects of care for a patient, or group of patients, to another person or professional group on a temporary or permanent basis".1 The primary objective of any patient handover is the accurate transfer of information about a patient's condition and care plan.
Communication failure has been identified as one of the most important contributing factors in up to 60-70% of serious patient incidents and is a major preventable cause of patient harm.2
A lack of structure and standardisation for communications, uncertainty about who is responsible for the patient's management, hierarchy, gender and ethnic background may all be contributing factors to communication difficulties between health professionals.
When a standard process for clinical handover is used, the safety of patient care improves as critical information is more likely to be transferred and acted upon.3
While the way in which handovers are performed vary between healthcare organisations, the common elements of an effective handover are:

clearly identifying the patient, yourself and your role
stating the immediate clinical situation of the patient
listing the most important and recent observations
providing relevant background/history to the patient's clinical situation
identifying assessments and actions that need to occur
identifying timeframes and requirements for transition of care
promoting the use of the patient record to cross-check information
ensuring clear documentation of all important findings or changes of condition.4
One example of a standardised communication method is the ISBAR tool (see Figure 1) which is also available as an iPhone/iPad application. A 2009 Australian study involving 160 final year medical students found that the content and clarity of information delivery was significantly higher for students who used the ISBAR tool during clinical handover to another clinician.5
Medical students should be mindful of these skills and use one of the standardised tools of information exchange during handover.

Want to know more?
Contact our 24 hour Medico-legal Advisory Service on 1800 011 255 or email advice@mdanational.com.au.
Dannielle Stokeld, MDA National Medico-legal Adviser (Solicitor)
---
References:
1. Safe Handover: Safe Patients. Guidance on Clinical Handover for Clinicians and Managers. Australian Medical Association, 2006.
2. Wong MC, Yee KC, Turner P. Clinical Handover Literature Review, eHealth Services Research Group, University of Tasmania Australia: Australian Commission on Safety and Quality in Health Care, 2008.
3. Australian Commission on Safety and Quality in Healthcare, National Safety and Quality Health Service Standards. September 2011.
4. NSW Health: Policy Directive 2009_060. Clinical Handover – Standard Key Principles. September 2009.
5. Marshall S, Harrison J, Flanagan B. The teaching of a structured tool improves the clarity and content of interprofessional communication. Quality and Safety in Health Care 2009;18:137-140.
Communication with Colleagues