Articles and Case Studies
Needle in a Haystack
MDA National Medico-legal Adviser, Dr Jane Deacon outlines a case where a medical practitioner is swayed by the patient to undertake a procedure against her better judgement.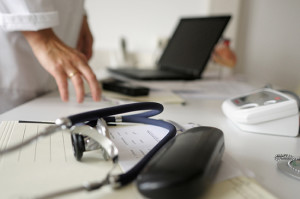 Case history
Mrs Green presented to her GP, Dr Menon, with a sore, red area on the dorsum of her hand, over her second metacarpo-phalangeal (MCP) joint. Dr Menon diagnosed a soft tissue infection and prescribed Flucloxacillin.
Three weeks later, Mrs Green returned. The infection had improved while she took the antibiotics, but had now returned. When Dr Menon examined her hand, she saw a faint black area and a lump suggesting a foreign body. Mrs Green then remembered that some weeks ago she had been doing some gardening and had pricked her hand around that area. An ultrasound was arranged and confirmed a 12mm object over the second right MCP joint.
When Mrs Green returned with the ultrasound report, Dr Menon's first reaction was to refer Mrs Green to a specialist, or the local emergency department (ED) for removal of the foreign body. However, Mrs Green was very reluctant to attend ED, and she said that she did not have time to wait there all day. She was uninsured and said that she could not afford to see a specialist privately. Mrs Green told Dr Menon that as it was only a bit of plant, or a splinter she could not understand Dr Menon's reluctance to proceed herself, and she encouraged her to "have a go".
Dr Menon infiltrated some local anaesthetic into the area and then proceeded to cut down onto the area of discolouration. She did not find anything at first, and she then extended the incision crossways, and located the piece of plant material and removed it. She then realised that she had severed one of Mrs Green's extensor tendons.
Dr Menon referred Mrs Green to ED for treatment. Tendon damage was confirmed and she was taken to theatre where the tendon damage was repaired. She spent three weeks in plaster, then a splint for a further three weeks. She attended therapy for several months and ultimately had a good result.
Medico-legal issues
Some weeks later Dr Menon received a letter from Mrs Green. She stated that she wanted compensation from Dr Menon for her lost wages and out of pocket expenses with regards to her medical treatment.
The case was reviewed by a medical expert who was critical of Dr Menon for the way in which she had undertaken the exploration of the wound in that she had incised across the finger rather than in a longitudinal direction. The matter was settled on a confidential basis.
Dr Menon was distressed by the experience as she stated that she had not wanted to explore the wound in the first place, as she was aware of the potential for tendon damage, but she had been talked into it against her better judgement by Mrs Green, who was a rather forceful woman.
Risk management strategies
Unless it is an emergency, do not undertake procedures when you are not confident. Although exploration of a wound to locate a foreign body would generally be considered a procedure that a GP would undertake, Dr Menon was aware that the location of this foreign body presented some potential hazards in terms of damage to nearby tendons. She considered that it would be better done by a specialist, but allowed her good judgement to be swayed by the patient.
Summary points

Prior to undertaking any procedure, doctors should assess the situation and only proceed if they are confident to do so.
Doctors are responsible for treatment decisions, and should not be persuaded to undertake procedures beyond their level of competence.
Anaesthesia
,
Dermatology
,
Emergency Medicine
,
General Practice
,
Intensive Care Medicine
,
Obstetrics and Gynaecology
,
Ophthalmology
,
Pathology
,
Practice Manager Or Owner
,
Psychiatry
,
Radiology
,
Sports Medicine
,
Surgery