Articles and Case Studies
Thedesk - Your Toolbox to Success at University
University life can be exciting. It can also be really stressful! Assignments, exams, balancing academic demands with work and life can take its toll.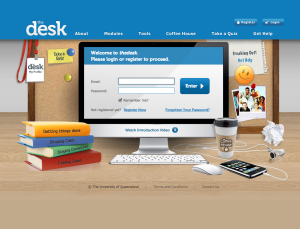 Most students find that when they're not feeling on top of things, they don't perform as well as they want to – or as well as they can.
thedesk is here to help you! It's a free online toolbox to help deal with some of the common issues that get in the way of success – like stress, procrastination, feeling down, relationship issues or general worries.
What can I find at thedesk?

Modules to help you develop problem-solving and self-management skills. Topics include getting things done, staying calm, staying connected and feeling good.
Tools to help with everyday issues, such as challenging and unhelpful thoughts, feeling confident, mindfulness and relaxation, and using feedback constructively.
Quizzes about different areas of life, such as relationships, physical health and mental wellbeing.
An online coffee house for connecting with other students, sharing experiences, music, art, recipes and great places to eat around campus.
Links to information and support services to help deal with a range of issues common to students.
Who created thedesk?

thedesk is funded by beyondblue – MDA National's Charity of Choice – and developed by The University of Queensland and Queensland University of Technology.
What do people say about thedesk?

Executive Dean:
thedesk does everything we wanted and does it better. It targets all the key issues for students transitioning to tertiary study and provides everything they need to deal with these issues and it does so in an engaging and technically very clean presentation and platform.
University students:
I love thedesk. I have found it very useful in so many ways. I love the videos, the quizzes and the information on the site. Sophie
Fantastic website! Keep up the great work!
How do I sign up?

It's easy, and free! Simply visit thedesk to get started.
As part of MDA National's Corporate Social Responsibility Program, we're proud to join forces with beyondblue to raise awareness about mental health in the medical profession and breakdown the stigma associated with it.