Articles and Case Studies
How Restrained are You?
Medico-legal Adviser, Janet Harry explores the use of "Restraint of Trade Clauses" in employment contracts in medical practices.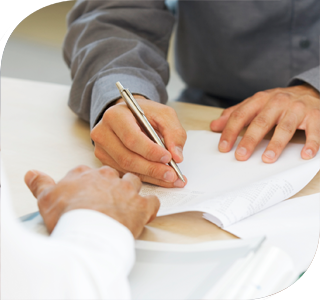 Case history
Dr X is an orthopaedic surgeon working in a large group practice. Over the years, Dr X experienced a number of changes to his place of employment. His employer had incorporated the practice (created a legal entity) in order to provide certain protections and benefits to the doctors who were employed there. The business was successful, and the employer opened two additional practices, located adjacent to major private hospitals. Dr X signed a contract of employment when he commenced with the practice, and another contract with the new corporation when it was established.
After five years, Dr X made the decision to commence his own private practice, and handed in his notice three months before his cessation date, as required under his employment contract. Shortly before he was due to leave, he was told that the employer intended to enforce the Restraint of Trade Clause in the contract. The restraint provisions prevented the doctor from doing any of the following for a period of two years after leaving the employment:
He could not establish his new practice within a 5km radius of any premises from which his former employer operate.
He could not approach, solicit business or entice away any patients who he had seen in his former practice.
He could not approach any employee of his former practice to work for him in competition with his former employer.
Discussion
A Restraint of Trade Clause is a legal clause often found in employment contracts. The clause is used by employers in an attempt to protect the employer's legitimate business interests. In the area of medical practice, this will frequently include a geographical restraint, a restraint on contacting former patients, and a restraint on attempting to employ any persons who worked for the employer. There will generally be a specified time period, and this can be for a period of months or even for a year or more.
The effect on a medical practitioner who is wishing to set up his or her own practice is clear – careful consideration of any Restraint of Trade Clause is necessary to ensure that the terms are complied with. If the clause is breached, then the former employer can seek to enforce the Restraint of Trade Clause through the courts.
Notwithstanding the existence of a contract, the courts will usually only enforce Restraint of Trade Clauses if they are "reasonable". This is often a question which will turn on the facts of the case. The court's role is to balance the needs of the employer to protect their client relationships against the right of the employee to work freely and earn a living.
Dr X consulted MDA National when he was informed of the employer's intention to enforce the Restraint of Trade Clause, prior to leaving his employment. Through MDA National, Dr X was able to negotiate terms acceptable to both parties. Nonetheless, a number of restrictions applied to the doctor for a period of six months following cessation of his employment.
Members need to be aware that with continued growth and incorporation of medical practices, more complex terms and conditions of employment will be inevitable. If you find that there is a dispute as to the meaning, validity or impact of a Restraint of Trade Clause in your employment contract, we recommend that you contact our 24/7 Medico-legal Advisory Service on 1800 011 255. Additionally, before entering into an employment contract, we strongly recommend you consider obtaining independent legal advice.
Anaesthesia
,
Dermatology
,
Emergency Medicine
,
General Practice
,
Intensive Care Medicine
,
Obstetrics and Gynaecology
,
Ophthalmology
,
Pathology
,
Practice Manager Or Owner
,
Psychiatry
,
Radiology
,
Sports Medicine
,
Surgery