Articles and Case Studies
Medicine – a blessed profession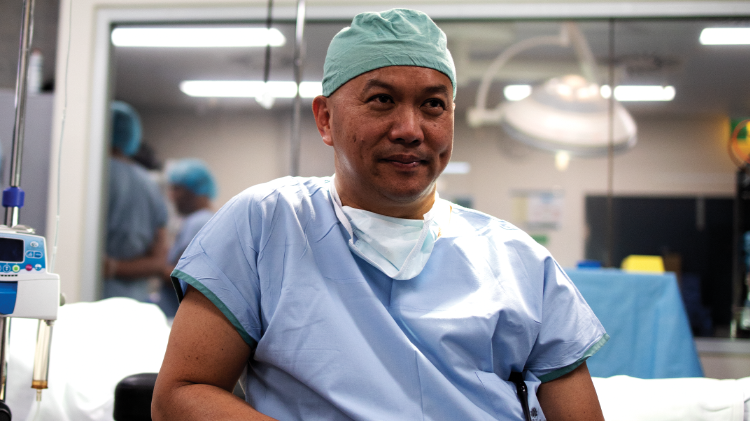 Whether with a drug, a scalpel or a kind word, it's truly a blessed profession we have chosen. Or perhaps it has chosen us.
I've just got home from Madagascar. It's a strange feeling but one I've grown accustomed to.
Three weeks ago, I sat confronted by the dilemma of a stunted health system. In a country of 24 million people, where the majority of people eke out life with daily earnings less than a dollar a day, I spent time in a hospital that served three million people, had a budget of $60,000 a year, no medically trained anaesthetists, and the majority of staff volunteering.
Around me were countless unsung local heroes. People who toiled 24-hour shifts to look after those who could somehow afford to be admitted. Yet, I was surrounded by optimism and smiles that surpassed the severe situation. No joyless words complaining of injustice, no helpless inaction, no hopeless apathy.
I spent the time training one of the local general surgeons on cleft lip and palate surgery. A kind, happy man. Good hands… that nod of approval that us surgeons like to give our fellows. My sole role was to educate him in cleft surgery and get him credentialed so he could take on the endless tide of facially different children on top of his already insurmountable workload. He had taken two weeks off from his job that paid $50 a week to learn from me.
The week ended. I felt proud of him. A connection forged over laughter and learning as we wrestled facial deformities with my infantile French and his halting English. At the insistence of the program coordinators, we made a trip to the patient shelter. Together as a team, with Malagasy volunteers and overseas counterparts. The patients wanted to thank us.
We slowly climbed the hill in our buses, rising up on the dusty road that separated us from the patients and their families. I couldn't help feeling the ascent like a wall that separated us. We had so much. They had so little. As I descended the steps of the bus, I became aware of a deep warmth that radiated towards me. A lump rose to my throat, one that I wanted to fight.
There they were. A sea of smiling brown faces. Grandparents, mothers, fathers, children. Family.
We started just watching each other and smiling like girls and boys kept separate at the start of their first high school dance. Waving ridiculously at each other. Then spontaneous cheering followed by clapping and an energy borne of its own, as laughter and gratitude carried into dancing, singing and heartfelt hugs that drew us together into our common humanity. The wall was gone, and we were embracing as though we had been liberated from our enemies. For a moment I wondered if there was a heaven, perhaps it would feel like this.
Now I'm home again. I just turned on the tap, grateful for the clean water that gushed effortlessly out of it. With all I've been given, I wonder how much more I can give, or am willing to give. This miraculous life that defies explanation, this spinning blue-green planet suspended impossibly in an infinity of space and stars, full of its beauty and inequalities and kindnesses and contradictions – what does it ask of me?
In gratitude, I contemplate the path ahead unwritten. Thankful for the ability we all have as doctors to change the lives of those around us. Whether with a drug, a scalpel or a kind word, it's truly a blessed profession we have chosen. Or perhaps it has chosen us.
Dr David Chong (MDA National member)
Plastic & Reconstructive Surgeon
Feature photo: Dr David Chong


---
Anaesthesia
,
Dermatology
,
Emergency Medicine
,
General Practice
,
Intensive Care Medicine
,
Obstetrics and Gynaecology
,
Ophthalmology
,
Pathology
,
Practice Manager Or Owner
,
Psychiatry
,
Radiology
,
Sports Medicine
,
Surgery
,
Physician
,
Geriatric Medicine
,
Cardiology
,
Plastic And Reconstructive Surgery
,
Radiation Oncology
,
Paediatrics
,
Independent Medical Assessor - IME