Articles and Case Studies
Speak Up to Stop Bad Behaviour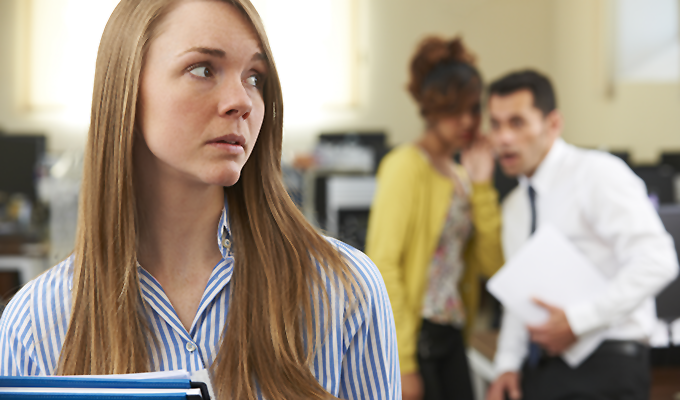 Imagine: You're working on a group assignment with Reggie, Billy and Jan. It was an enormous project and the team has done a lot of work; however, there's still much more to do in not much time.
You walk into a group meeting a few minutes late. The other three are evenly dispersed around a table so you can choose to sit next to anyone.
Jan is angrily speaking at Reggie, who looks like she wants to crawl into a cave and cry:
What do you mean there's no way you can do extra hours this weekend? How can you say it's just not possible? I've managed it the last five weekends. If you don't do it, we'll have to make Billy do even more work. Is that what you want? You know Billy's unwell so – just because you're lazy – you want Billy to push even harder? Everyone's pulling their weight except you. I've even seen you sleeping under a tree at lunch times. Are you serious about doing well here or not? I can't remember the last time I had the luxury to take a relaxing break. Why are you so precious? You're unbelievably slack.
You know that this tirade is out of line. What could you do to support Reggie?
Remember: body language is powerful
If you witness someone on the receiving end of verbal harassment, consider moving yourself physically close to them. In this instance, you could sit next to Reggie and lean in as close as possible. See if you can almost touch shoulders with the person being verbally attacked: physically band together, giving them a sense of strength. This comradery alone may make a huge difference to the recipient's wellbeing.
If you want to talk to the person speaking inappropriately, be sure to use assertive body language at the same time, e.g. lean towards them with your chest up and keep eye contact. A bully needs to know they don't have an easy target.
What could you say?
The DESC mnemonic can help you structure an assertive and effective response. You can use it 'in the heat of the moment' or for a later follow-up conservation.1
Describe the situation

e.g. When I walked in just now I saw insult after insult being directed at one of our team members who was clearly extremely uncomfortable and not able to respond.

Express

your feelings and concerns

e.g. I'm worried for Reggie. She does not deserve to be spoken to like that. And I'm worried for you, Jan. Clearly things aren't going well. And I'm worried for the group. Reggie, I want you to know that I feel you're sufficiently contributing and have a lot to offer. I feel we can find a way to get this project done well and collaboratively.

Suggest alternative actions

e.g. We can reason this out as a team in a respectful way and find as good an outcome as possible. Let's take a five-minute break and then start the meeting again hearing from Billy first.

State the consequences in terms of the team

e.g. That conversation I just walked in on isn't going to help us get to a good solution as quickly as possible. It didn't inspire me to want – and be able – to give my best. I know we can take a different approach.
Other tips for what to say:
Use the word 'and' instead of 'but', e.g. I know you're trying to help the group get this done and I hope we can find a way that works for everyone rather than I know you're trying to help the group get this done but there's a better way.
Repeat any offending statement, asking if you heard it correctly, e.g. Are you saying you don't think Reggie cares about our group doing well?
Consider saying that the behaviour is unreasonable, not welcome and needs to stop.
Why address inappropriate behaviour?
If you don't, you are part of preserving an undesirable culture. As Lieutenant General David Morrison AO said to the Australian Army: The standard you walk past is the standard you accept.
When you're in a clinical environment, behaviour that disrupts effective workplace culture adversely impacts patient safety. So start practising 'speaking up' in other settings now!
People on the receiving end of such unprofessional behaviour may:

have difficulty in thinking clearly and making decisions
avoid certain people to the detriment of team goals
have strong negative feelings that affect enjoyment of their work
lose trust and respect to an extent that teamwork becomes dysfunctional.

Responding to inappropriate behaviour can strengthen relationships – conflict resolution and giving constructive feedback may not feel that way in the short term, but often does in the long term.
While many factors in any given situation may well be out of our control, and we are all a product of our environment, there is always something we have the ability to influence.
Education Services, MDA National
---
Reference
Agency for Healthcare Research and Quality. DESC Script. Pocket Guide: TeamSTEPPS. 2014.
Communication with Colleagues
,
Anaesthesia
,
Dermatology
,
Emergency Medicine
,
General Practice
,
Intensive Care Medicine
,
Obstetrics and Gynaecology
,
Ophthalmology
,
Pathology
,
Practice Manager Or Owner
,
Psychiatry
,
Radiology
,
Sports Medicine
,
Surgery
,
Physician
,
Geriatric Medicine
,
Cardiology
,
Plastic And Reconstructive Surgery
,
Radiation Oncology
,
Paediatrics
,
Independent Medical Assessor - IME