Articles and Case Studies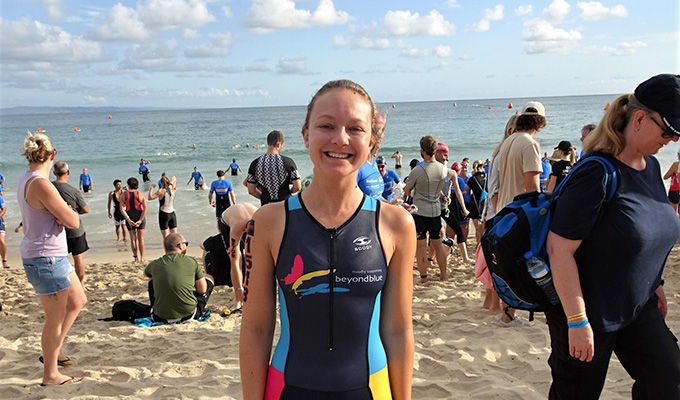 On 5 November 2017, I participated in the Noosa Triathlon as part of a team of 50 for beyondblue, an Australian charity that supports those affected by anxiety and depression and works to reduce the stigma of mental health.
Getting involved with Team beyondblue
I joined Team beyondblue in early 2017, having seen many loved ones affected by mental illnesses and impacted by the stigma surrounding these conditions, and hearing them describe fear and isolation as a part of their journey. I don't think anyone should experience discrimination or a fear of judgement because of an illness. So I decided I would try to help raise awareness and funds in support of the fantastic work that beyondblue does.
The Noosa Triathlon is an Olympic distance race that comprises a 1.5km swim, 40km cycle and 10km run. It's the largest event of its kind in the world, with over 5,000 people attending every year to participate in the week-long multisport festival. As beyondblue had been nominated as one of the major charity partners for the event, I decided that participating in this race with them would be the perfect way to promote awareness for their work in mental health.
I had participated in a few triathlons in the past, and have always enjoyed exercising and being active. Being based for clinical placements in Stanthorpe – a small rural town about three hours inland from the Gold Coast – and trying to train on top of our final year workload wasn't always easy. However, I loved the challenge of finding different ways to prepare for the event and the opportunity to become involved in local community sports groups, such as the Stanthorpe Parkrun and YMCA.
A rewarding experience
The greatest part about being involved with beyondblue was seeing the outpouring of support for this organisation, and the eagerness of so many people to get involved in raising funds and awareness and engaging in the conversation about mental health. From individuals making private donations, to morning teas at Bunnings Warehouse and our Rural Clinical School (QRME), a Trivia Night at the Stanthorpe Central Hotel and a social media campaign by the Griffith University Medicine Society (GUMS), it was really heart-warming to see so many people get behind the cause.
Being part of Team beyondblue has been one of the most special experiences of my final year at medical school. I feel so lucky to have had this opportunity to support the great work they do, and to have been able to engage with so many people on the topic of mental health.
In terms of where to from here, I'm currently trying to make the most of my final holidays before internship and about to go on a two-week hiking trip around New Zealand. After graduation in December, I'll be starting the move up north to Townsville, where I'll be starting my intern year in 2018.
My final fundraising tally was $2,500 at my last check. I want to say a huge thank you to MDA National for supporting beyondblue, and for their incredibly generous donation to help me reach my target.

If you're interested in getting involved with Team beyondblue and working towards a sports event or fundraising for the charity, you can find ways to do so here.
Lauren Head (MDA National Member)
Final Year Medical Student
Griffith University, Queensland
Doctors Health and Wellbeing