Articles and Case Studies
Three Models for Shared Healthcare Decisions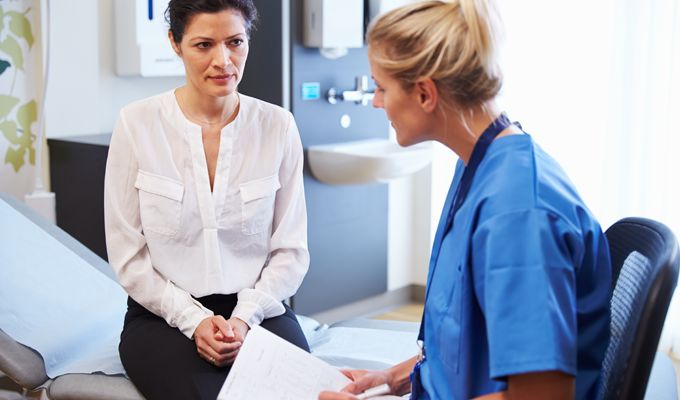 It's always a good time to think about how you're going to provide patient-centred care. Patient centeredness is a fundamental component of healthcare delivery.
MDA National outlines three models of shared decision making – a consultation process where both the doctor and patient make a health decision together after talking about the benefits and risks of treatment options, and what the patient values, their preferences and life circumstances.1
MODEL 1: Five Questions
The doctor personalises the choice for the patient and ensures the patient has enough information to make a decision by asking the patient five questions: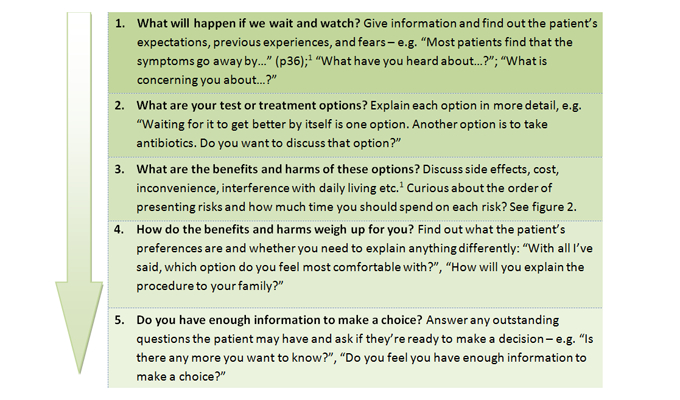 Figure 1 (above): The five questions model helps doctors guide patients towards making an informed healthcare decision.1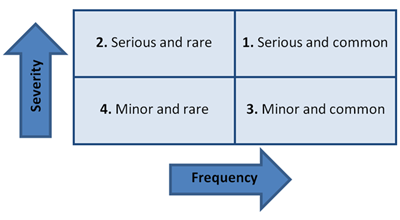 Figure 2: When considering the order in which to present risks it is recommended to spend most time on 1) serious and common risks, followed by 2) serious and rare, 3) minor and common, and 4) minor and rare.
See mja.com.au/system/files/issues/201_01/hof00002.pdf for more detailed information on the five questions model.
MODEL 2: Three Steps
The doctor helps the patient improve their knowledge and form preferences to make an informed decision.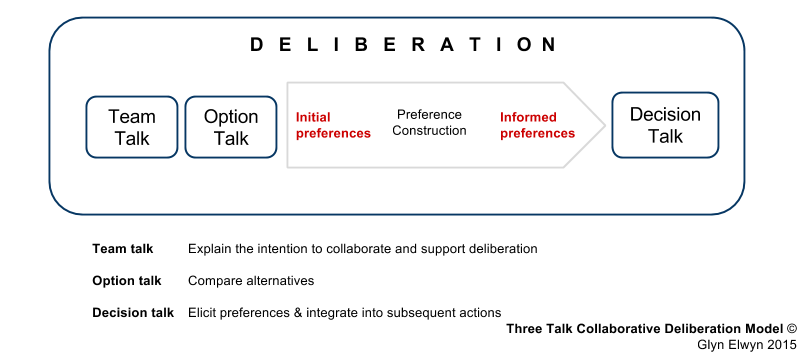 Figure 3: The three-step model is a sequential process that encourages discussion, reflection, weighing up of options and reconsidering information. Used with permission from Prof Glyn Elwyn 2016.2
See glynelwyn.com/blog/collaboration-talk-model-for-shared-decision-making for more information on the three-step model.
MODEL 3 – Ask, Share, Know
The patient leads the process to make a healthcare decision ("No decision about me, without me").

Figure 4: Ask, Share, Know encourages the patient to lead the decision-making process in three main ways.3
See askshareknow.com.au for more information on this approach.
People are entitled to make their own decisions about their health care. Patients who are supported to truly actively participate in selecting their treatment are more likely to make decisions that are best for them.1

Want more detailed information on these models and informed consent? An online education activity is coming soon!
MDA National Education Services
References
Hoffmann T, Legare F, Simmons M, McNamara K, McCaffery K, Trevena L, et al. Shared Decision Making: What Do Clinicians Need to Know and Why Should They Bother? Med J Aust. 2014;201(1):35–9. Available at: mja.com.au/journal/2014/201/1/shared-decision-making-what-do-clinicians-need-know-and-why-should-they-bother.
Elwyn G. Collaboration Talk Model for Shared Decision Making. 21 July 2015 [cited 29 June 2016]; Available at: glynelwyn.com/blog/collaboration-talk-model-for-shared-decision-making.
Ask Share Know. [cited 6 January 2016]; Available at: askshareknow.com.au/index.html.
Different methods work for different people.
As a patient, which method do you prefer?
Communication with Patients
,
Clinical
,
Anaesthesia
,
Dermatology
,
Emergency Medicine
,
General Practice
,
Intensive Care Medicine
,
Obstetrics and Gynaecology
,
Ophthalmology
,
Pathology
,
Psychiatry
,
Radiology
,
Sports Medicine
,
Surgery
,
Physician
,
Geriatric Medicine
,
Cardiology
,
Plastic And Reconstructive Surgery
,
Radiation Oncology
,
Paediatrics
,
Independent Medical Assessor - IME