Articles and Case Studies
The Sting of a Wisecrack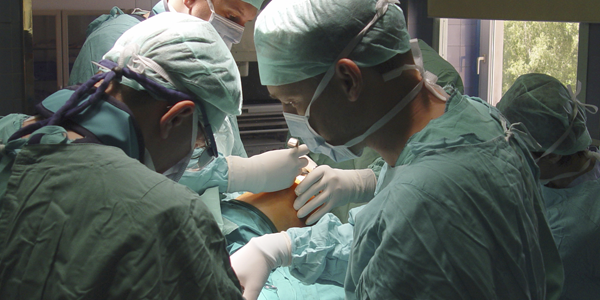 A patient is undergoing surgery. Consider these possible scenarios while the patient is under anaesthetic:
The Surgeon comments that the patient is one of the dumbest people he has ever met and he can't believe they have a PhD.
The anaesthetic nurse states that when she went to the pre-op holding to check the patient in, the patient was in tears because she had to remove her nail polish – "How pathetic is that!"
When prepping a morbidly obese patient, the scrub nurse jokes to the scout, "There's not enough Betadine on earth to cover this belly".
Scenarios such as these occur every day in multiple operating theatres around the country. However, this doesn't make it right or okay – even if the surgical team is making a harmless joke and no malice is intended.
The advent of entropy or BIS monitoring to measure depth of anaesthesia has considerably lessened the number of cases in which patients, post-operatively, report having awareness during the procedure (and can accurately describe conversations and other things they heard whilst undergoing surgery).
Irrespective of whether a patient is appropriately sedated or anaesthetised, other "ears" may be listening. Surgeons and other medical professionals should be mindful of the potential consequences of their wisecracks and comments.
The case
The US case of DB v Ingham (2015) is one in which the mocking of a sedated patient came at a very high price for one medical professional.
Briefly, Mr DB was scheduled to undergo a colonoscopy under sedation. Before the procedure started, he set up the recording function on his smartphone so it would be ready for him to record his post-procedural discussion with his Gastroenterologist (Dr Solomon Shah), including recording any instructions that may be given to him.
After Mr DB had been sedated (and even before the procedure commenced), the surgical team started to insult and mock him. Many comments were made, including the following:
The Anaesthetist (Dr Tiffany Ingham) told the sedated Mr DB that within five minutes of speaking with him pre-operatively, she had wanted to punch him in the face and "man [him] up a little bit".
When an assistant commented that Mr DB had felt queasy when he saw a needle go in his arm, Dr Ingham said, "Well, why are you looking then, retard?"
At some stage during the procedure when a medical assistant noticed that Mr DB had a rash, Dr Ingham warned her not to touch it and said she might get "some syphilis on your arm or something", before adding, "It's probably tuberculosis in the penis, so you'll be alright." Dr Shah then commented "As long as it's not Ebola you're okay".
Dr Shah and Dr Ingham discussed how they could avoid speaking with Mr DB following the procedure. Dr Shah told one of the assistants to convince Mr DB that Dr Shah had spoken to him, but "you just don't remember it". Dr Ingham then said, "You're going to have to have a timer go off or have like a fake page… I've done the fake page before".
Although Dr Shah's comments were not of the number and scale of Dr Ingham's, at no stage did he ask her to stop speaking disparagingly of Mr DB. At the end of the recording, Dr Ingham was heard to say, "I feel bad. I shouldn't be so mean."
When Mr DB was travelling home following the procedure, he pressed "play" on his phone to listen to what Dr Shah had told him. Mr DB was shocked to discover he had inadvertently recorded the entire procedure, and that he had been mocked from the moment he went to sleep.
Mr DB sued Dr Ingham and Dr Shah and their respective practices for medical malpractice and defamation. The case proceeded to trial. Dr Shah was dismissed from the case on the first day of the trial. The case against Dr Ingham was heard over three days, and a jury awarded Mr DB US$500,000 (of which US$200,000 was for punitive damages).
The case received considerable publicity, both in the US and around the world. In the wake of the claim, Dr Ingham moved to Florida. It is not known if either doctor was subject to disciplinary action by the Medical Board.
Discussion
In this instance, although the Anaesthetist was the one making disparaging remarks, the same medico-legal principles apply to Surgeons. Under the circumstances, the Surgeon was fortunate not to have fared worse.
This case is a timely reminder to all healthcare professionals, not just medical practitioners, to be mindful of what they say intraoperatively. Leaving aside the possibility that a procedure may be inadvertently or intentionally recorded, it is unprofessional to speak about a patient (or anyone) in the way the doctors, particularly Dr Ingham, did in this case.

Yvonne Baldwin
Consultant, MDA National
Communication with Colleagues
,
Complaints and Adverse Events
,
Anaesthesia
,
Dermatology
,
Emergency Medicine
,
General Practice
,
Intensive Care Medicine
,
Obstetrics and Gynaecology
,
Ophthalmology
,
Pathology
,
Psychiatry
,
Radiology
,
Sports Medicine
,
Surgery
,
Physician
,
Geriatric Medicine
,
Cardiology
,
Plastic And Reconstructive Surgery
,
Radiation Oncology
,
Paediatrics
,
Independent Medical Assessor - IME