Articles and Case Studies
Managing Conflict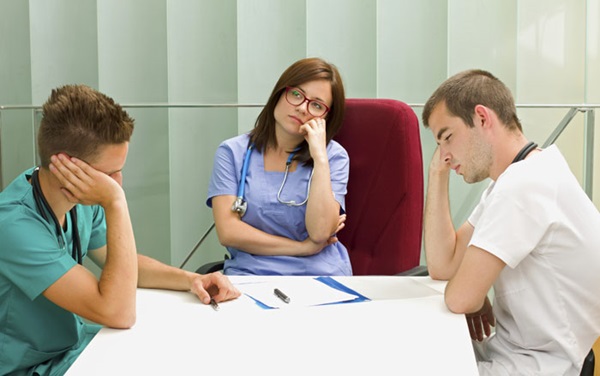 Some people dislike conflict and avoid confrontation. However, bottled-up issues can escalate and become more difficult to resolve. This article outlines the top tips from our new Win–Win Conflict Resolution workshop.
Disagreement between team members needs to be managed effectively and quickly to ensure patient-centred, safe and efficient medical care. Differences in opinions, values, beliefs, skills, interests, backgrounds and priorities based on different types of personalities, workplaces, specialties, team environments and career stages mean conflict is sometimes unavoidable.
Real life scenarios of unresolved team conflict*

A private practice compromised the health of patients due to inconsistent medical practices caused by bitter infighting. The practice was split in two camps over different approaches to patient care. The acrimony between staff caused a breakdown in communication, respect and professional cohesion.

A doctor had concerns in having to share an office with another colleague when providing confidential patient telephone advice. He felt he was unable to raise the issue with his supervisor due to an ongoing conflict and instead discussed his concerns with multiple junior colleagues in an attempt to create dissent from the ground up.

In the interest of patient safety, a doctor felt he had to speak loudly and quickly to a nurse due to her hearing difficulties. The nurse made a complaint to her manager about the doctor's communication towards her being rude and aggressive.
Top tips for a constructive resolution
A good first step is to approach the person and request a meeting or some time to discuss the issue.
Use the DESC script to formulate an assertive response.2

Objectively describe the situation or specific behaviour, e.g. "I have noticed that for the past couple of days you have been 45 minutes late to work".
Express how the situation makes you feel and what your concerns are, e.g. "This made me feel frustrated when I had to take on some of your work and it worries me that I won't be able to get my work done as well".
Suggest alternative actions and seek agreement, e.g. "Do you think it would be possible for you to get to work on time tomorrow or make up the lost time?"
State the consequences in terms of impact on the team, e.g. "When we all pull our weight our team can improve our productivity and patient satisfaction".

Focus on interests rather than positions. (Positions are what people want, which are often irreconcilable. Interests are why they want it, which may be compatible.3) By understanding others' interests you can shift the focus of the conversation to the actual underlying issue which will help when exploring solutions.
Separate "people" from "issues" and face the "problem" not the "person". Don't blame them for your problems. This helps to resolve the conflict without damaging the relationship.
Soften statements using the terms "sometimes", "often", and "possibly" rather than generalised statements such as "This behaviour is splitting our team" which can cause the other person to become defensive.4
Remove blame that may cause the other person to argue a point by turning "you" statements into "I" messages. For example say "I felt my suggestions were not acknowledged" rather than "You never listen when I make suggestions".4
Acknowledge emotions. A useful phrase may be "I can see you're upset. It's important to me that we can work together".
Evaluate potential solutions with the other person. This creates a shared stake in the outcome which can help end stalemates and improve commitment to the agreed resolution.4
Top tips for a mediator
You may also need to mediate conflicts between others to restore team functioning.
Remain neutral. Don't take sides even if you dislike or disagree with one of the parties.
Actively listen with your full attention to show you take the situation seriously. Paraphrase to show you've heard and understood what someone has said.
Allow each party equal and sufficient opportunity to discuss their concerns from their point of view. The aim is for each person to understand where the other is coming from.
Be aware of body language and explain behaviour that is counterproductive, e.g. someone pointing their finger or rolling their eyes.
Conflict within a team can cause members to become distracted, and can negatively affect processes and patient care through breaks in communication, cooperation, and processing of information.5 When conflict is handled well, problems are not only resolved but team relationships are potentially strengthened.6
MDA National Education Services
*The case scenarios are based on actual medical negligence claims or medico-legal referrals; however, certain facts have been omitted or changed to ensure anonymity of the parties involved.
References
Communication with Colleagues
,
Anaesthesia
,
Dermatology
,
Emergency Medicine
,
General Practice
,
Intensive Care Medicine
,
Obstetrics and Gynaecology
,
Ophthalmology
,
Pathology
,
Practice Manager Or Owner
,
Psychiatry
,
Radiology
,
Sports Medicine
,
Surgery
,
Physician
,
Geriatric Medicine
,
Cardiology
,
Plastic And Reconstructive Surgery
,
Radiation Oncology
,
Paediatrics
,
Independent Medical Assessor - IME