Articles and Case Studies
Testamentary Capacity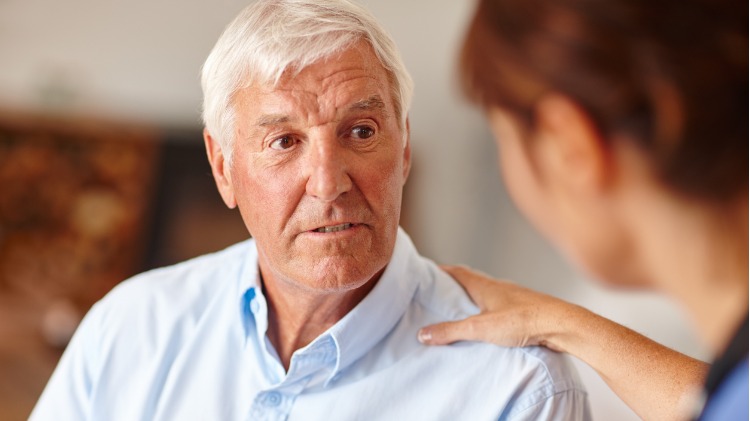 An all too common scenario faced by our Members is when they are either asked to comment retrospectively on the testamentary capacity of a deceased patient, or to provide a prospective report for someone who is contemplating writing a will. Providing an opinion on testamentary capacity is a very complex area that can land you in considerable difficulty.
As a witness being cross-examined on the basis for your views,1 disciplinary findings,2 or even judicial review.3,4,5 Fortunately, adverse outcomes arising out of negligent assessments are uncommon. This article aims to provide some clarity on the issues involved.
Case history
Violet was elderly and wealthy when she died. She had loyally attended your practice for the last twenty years, although she had been a bit vague and doddery of late. Sadly, even before the family's mourning had ended, the war for her assets began.
The Executor of her estate writes and asks for your opinion on Violet's prior testamentary capacity. "That's easy", you think to yourself, optimistically hoping that the Mini Mental State Examination (MMSE) you performed last year would be enough for the lawyers as you begin to put pen to paper.
Capacity
Capacity (or competence) is a legal concept and refers to an adult's ability to make their own decisions.6 Adults are presumed to have capacity, although the presumption is able to be disproved. While cognition (a medical concept) and capacity are intertwined, impairment of cognition does not mean that a patient will lack capacity.
Capacity is time and decision specific, so fluctuating cognitive states and varying decision tasks will alter the assessment of the patient's capacity. Subsets of capacity can also be determined, such as financial capacity,7 consent to medical treatment, testamentary capacity, and capacity to stand trial. For more detailed information, read our article on assessments of capacity.
Prospective assessment of testamentary capacity
Testamentary capacity is a specific legal concept, and it is not a medical diagnosis. It refers to the ability of a patient to make a will. The required capacity will vary with the complexity of the proposed will and potential claimants involved. As such, doctors should be very sure of what they are doing if they are to provide opinions regarding testamentary capacity.
Testamentary capacity assessment requires very specific understanding and skills, and should generally only be performed by those with the relevant knowledge and experience. It involves far more than an assessment of cognition. Given that testamentary capacity assessment requires consideration of the proposed will, a solicitor should be involved in providing instructions including the necessary background information.
The legal test is surprisingly old – found in the English 1870 case of Banks v Goodfellow8 and still relied on by lawyers today. It is clever in that it recognises the interaction of medical factors (cognition/mental health) and individual facts of the matter (assets and benefactor).9 The case related to the writer of a will who had delusions – but were the delusions enough to invalidate the will? The court concluded they were not.
The person making the will must:
understand the nature of making a will and its effects

understand the extent of the assets they are bequeathing
comprehend and appreciate the (moral) claims to which they must give effect
not be affected by a disorder of the mind that "perverts the sense of right" or decision-making.
Formal assessment of testamentary capacity thus requires some understanding of the assets and potential beneficiaries involved, and will also involve working through the scenario with the patient.
Doctors should generally avoid signing a pre-prepared statement (affidavit) prepared by lawyers involved in testamentary (will) disputes without first seeking advice from MDA National and/or ensuring that their own views are accurately reflected.
A doctor is not obliged to provide an opinion on a patient's testamentary capacity and, as noted above, such opinions should be reserved for those with the necessary expertise.
Doctors generally conceptualise "cognitive assessment" when considering capacity issues and need to be careful that the two are not confused. As an alternative, it may be that factual information about the patient's cognitive state can be provided without making any comment about testamentary capacity.
Consent to provide a retrospective assessment of testamentary capacity
Appropriate authority to disclose confidential patient information should be carefully considered prior to any discussion or the provision of a report to third parties. Doctors still have a professional and legal duty to maintain patient confidentiality even when a patient is deceased or no longer has decision-making capacity.
For an incompetent patient, the legal guardian or substitute decision maker will likely have this authority. For deceased patients, appropriate authority will typically reside with the appointed Executor/Administrator of the will. Any dispute over the patient's testamentary capacity may invalidate the appointment of that Executor/Administrator if the will was made at the time the patient was incompetent. These can be challenging cases to unravel and advice should be sought where there is any doubt as to whether appropriate consent has been obtained.
Retrospective assessment of testamentary capacity
It is generally very difficult to retrospectively provide detailed information about testamentary capacity, e.g. after death, particularly if there is no detailed assessment to refer to. Such a situation might flow from an entry on a death certificate indicating a patient had dementia (often without a limiting timeframe) that was relevant to the period the patient made a decision in relation to bequeathing assets.
We strongly recommend that doctors refrain from providing a retrospective opinion about testamentary capacity unless a historic formal assessment has already occurred. However, a doctor may be able to offer relevant facts as to the state of the patient's cognition at the specific time, if available (see sample letter shown below).
Although similar information regarding the patient's cognitive state might be relevant to a prospective assessment, doctors may additionally choose to refer the patient to a relevant expert.
Sample letter – Retrospective assessment of testamentary capacity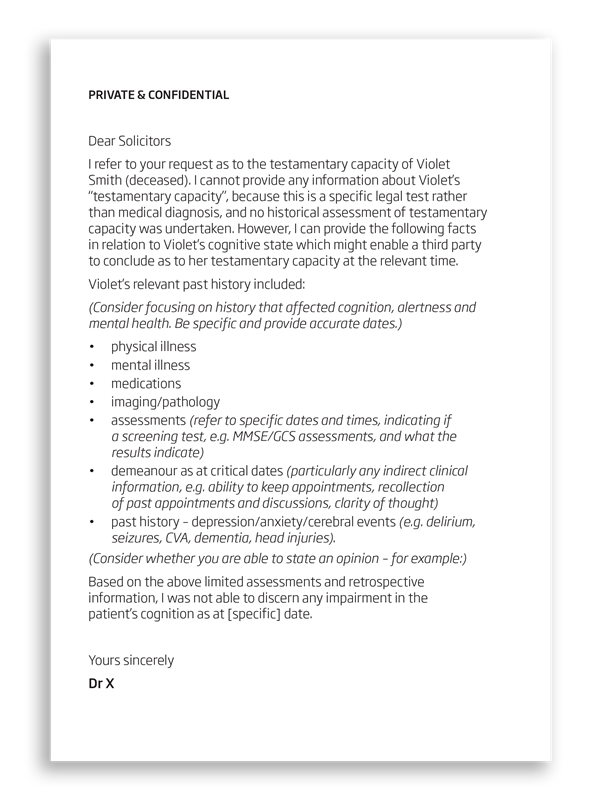 Conclusion

Matters involving testamentary capacity can be particularly complex, especially in the context of a background dispute. They are often best discussed with MDA National's Medico-legal Advisory Services team on 1800 011 255.

We are experienced at resolving these matters and dealing with the solicitors of the various parties involved. We are also happy to review any documentation you might consider providing to a third party.
Dr Julian Walter
Medico-legal Adviser
MDA National
References
[Anaesthetist expertly documenting changed will prior to surgery] Frizzo & Anor v Frizzo & Ors [2011] QSC 107 (12 May 2011). Available at: austlii.edu.au/au/cases/qld/QSC/2011/107.html
[Caution and reprimand for Unsatisfactory Professional Conduct in not assessing testamentary capacity prior to signing document attesting testamentary capacity] Medical Practitioners Board of Victoria. Dr Athanasios Gouras [2004] MPBV 10: Reasons for Decision. [Melbourne]: MPBV, 2004. Available at: austlii.edu.au/au/cases/vic/VMPB/2004/9.pdf?stem=0&synonyms=0&query
[In relation to capacity, rather than testamentary capacity where a patient was to engage in voluntary euthanasia, but was demented and a new will was written] - R v Shirley Justins [2008] NSWSC 1194 at [20] and [38] where the "irresponsibility' of the doctor is noted". Available at: austlii.edu.au/cgi-bin/sinodisp/au/cases/nsw/NSWSC/2008/1194.html?stem=0&synonyms=0&query=%22Graeme%20wylie%20%22
Ocalewicz v Joyce [2012] NSWSC 1163. Available at: austlii.edu.au/au/cases/nsw/NSWSC/2012/1163.html
[Where a displaced benefactor suing a solicitor (as a non-client intended beneficiary) for not correctly making an informal will prior to the 90-year-old's death] Howe v Fischer [2014] NSWCA 286 and Fischer v Howe [2013] NSWSC 462. Moran P. Informal Wills: Do Solicitors Owe a Duty to Intended Beneficiaries? Available at: cbp.com.au/Publications/Informal-wills-do-solicitors-owe-a-duty-to-intend
Attorney General's Department NSW. Capacity Toolkit. Sydney: NSW Attorney General's Department, 2008, p10.
Gardiner PA, Byrne GJ, Mitchell LK, Pachana NA. Financial Capacity in Older Adults: A Growing Concern for Clinicians. Med J Aust 2015;202(2):82-85.
Banks v Goodfellow (1870) LR 5 QB 549.
Hamilton B, Cockburn T. Capacity to Make a Will and Enduring Power of Attorney: Issues New and Old. Queensland Law Society Journal 2008;28(2):14-18.
Regulation and Legislation
,
Anaesthesia
,
Dermatology
,
Emergency Medicine
,
General Practice
,
Intensive Care Medicine
,
Obstetrics and Gynaecology
,
Ophthalmology
,
Pathology
,
Psychiatry
,
Radiology
,
Sports Medicine
,
Surgery
,
Physician
,
Geriatric Medicine
,
Cardiology
,
Plastic And Reconstructive Surgery
,
Radiation Oncology
,
Paediatrics
,
Independent Medical Assessor - IME