Articles and Case Studies
Risky Relations
Dr Young is at a family BBQ when his sister asks him for a script for some strong painkillers for her back pain. He's aware that she has been having some back pain for a while. How should Dr Young respond to this request?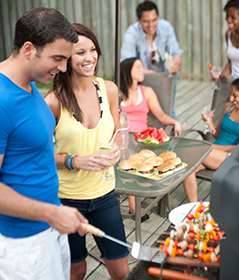 Medico-legal issues
Research suggests that it's common for doctors to be asked for medical advice by their family members1,2 as in the fictitious scenario above, and most doctors have prescribed medication and provided medical care to their families.1
However, many issues may arise when treating family members:
The doctor's personal feelings may impair medical judgement and interfere with the level of care provided.3
The doctor may overreact to symptoms and order unnecessary tests, or fail to investigate potentially serious symptoms because they don't want to consider a serious illness in a family member.
The patient's expectation of the doctor-patient relationship may change. For example, the patient may expect special services and would usually not expect to pay. There may also be difficulties with confidentiality.
The doctor may fail to take a thorough history, ignore sensitive areas in the medical history and may not complete a physical examination, especially when it comes to intimate examinations.3,4
Often, the request may be presented in a social setting when the doctor does not have the necessary facilities and equipment to perform an examination, and often no notes or record of the consultation will be kept.
Doctors may be more likely to attempt to treat problems outside of their area of expertise when treating family members.1
If problems arise in the doctor-patient relationship, damaging consequences can flow on to their personal relationship. It's not unknown for a family member to make a complaint to AHPRA regarding treatment provided by their medically qualified family member.
The Medical Board of Australia's Good Medical Practice – A Code of Conduct for Doctors in Australia specifically states:
Whenever possible, avoid providing medical care to anyone with whom you have a close personal relationship. In most cases, providing care to close friends, those you work with and family members is inappropriate because of the lack of objectivity, possible discontinuity of care, and risks to the doctor and patient. In some cases, providing care to those close to you is unavoidable. Whenever this is the case, good medical practice requires recognition and careful management of these issues.
More examples
A recent case illustrating some of these difficulties concerned a GP who provided care to his elderly mother in a remote community. When his mother collapsed, the GP diagnosed a subarachnoid haemorrhage and decided not to further investigate or treat his mother, and to provide palliative care only. A complaint was lodged by another family member and the matter came before the NSW Medical Tribunal.5 The tribunal found the GP guilty of unsatisfactory professional conduct and he was reprimanded.
A GP was the primary medical provider for her de-facto partner and treated him with a variety of drugs, including Schedule 8 drugs, for cluster headaches. When her partner ultimately died of an overdose, the GP was referred to the NSW Medical Tribunal and found guilty of professional misconduct.6
Our tips

Tread warily when considering requests from family or friends for treatment.
Discourage family and friends from expecting and requesting informal medical care. It may be helpful to explain the ethical and legal risks involved in treating family and friends.
You can still support ill family and friends by acting as a well-informed patient advocate and facilitating care from an independent doctor, without taking on the role of the treating doctor.
If in doubt, seek advice from MDA National – phone 1800 011 255 or email advice@mdanational.com.au.
Dr Jane Deacon
Medico-legal Adviser, MDA National
1. La Puma J, Stocking CB, La Voie D, Darling CA. When Physicians Treat Members of Their Own Families. N Engl J Med 1991;325(18):1290-4.
2. Evans RW, Lipton RB, Ritz KA. A Survey of Neurologists on Self-Treatment and Treatment of Their Families. Headache 2007;47(1):58-64.
3. Price M, McIntyre BW. Dangers of Self-Prescribing and Prescribing for Family Members. Medicine and Health, Rhode Island 2007;90(6):178-81.
4. Fromme EK. Requests For Care From Family Members. The Virtual Mentor 2012;14(5):368-72.
5. Health Care Complaints Commission v Dr Maendel [2013] NSWMT 3.
6. Health Care Complaints Commission v Dr Annette Dao Quynh Do [2013] NSWMT 7.
Communication with Patients
,
Anaesthesia
,
Dermatology
,
Emergency Medicine
,
General Practice
,
Intensive Care Medicine
,
Obstetrics and Gynaecology
,
Ophthalmology
,
Pathology
,
Psychiatry
,
Radiology
,
Sports Medicine
,
Surgery