Articles and Case Studies
Being Empathic Helps You and Your Patients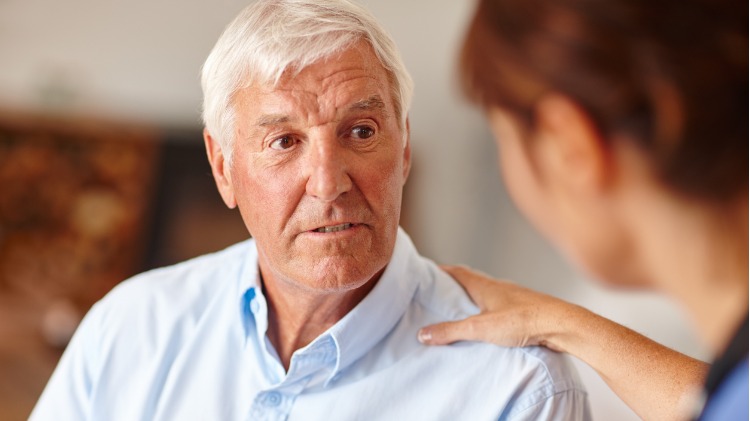 The word "empathy" is used a great deal, often perfunctorily, in relation to how medical practitioners should behave and communicate.
To become more comfortable with the vital role of emotions in health care, it is useful to regularly re-explore what empathy really is, how people convey and detect it, and its impact.
What is empathy and why is it important?
Empathy is communicating that you understand the views and feelings of another. The role of emotions in health care "cannot be overemphasised"1 and it is vital to adequately discuss and respond to them. Yet there is evidence that exploring patients' feelings is commonly not done. Conveying empathy and confidently responding to emotions helps doctors to:
cope with the challenges of practising medicine
improve patient outcomes
– empathy has favourable effects on patients' adjustment, distress, adherence and physical outcomes
– supporting patients to disclose useful information may allow issues to be resolved in a more timely manner.
Patients highly value the parts of communication with their doctors that generate trust, support and hope.2 "Empathy is one of the most powerful ways of providing this support to reduce patients' feelings of isolation…"3 Discomfort when having conversations that involve emotional matters can be interpreted as indifference which can lead to complaints and litigation.4
Empathy is not simple reassurance, agreement or saying "I know how you are feeling".
Tips for communicating empathically
Whenever a person raises a psychological or emotional concern, an explicit empathic response is necessary.
– Use the NURSE mnemonic to respond to other people's emotions (see below).
– Respond empathically as soon as possible after a worry or other emotion is expressed.5,6
– Aim to provide empathic responses at multiple points over a consultation – this is likely to improve efficiency and satisfaction for all.6
Be alert for patient questions, stories and body language that have underlying emotions,5,7 e.g. general nervous mannerisms, less social chit chat, disagreement, asking lots of questions and requesting referrals or prescriptions.7 Then proactively ask open-ended questions that directly explore their emotional responses.
Use the "Four Cs" of initiating constructive discussion: saying that you "care", are "curious", are "concerned" or are "confused".8
Give information in small amounts, allowing people a chance to ask questions or express emotions.
Allow patients to:
– lead where the consultation goes
– speak without being interrupted.
If time possibly allows, continue to ask the patient if they have any questions until they have definitely asked them all. When time does not allow for this, apologise for the fact that you must be elsewhere and ensure that the patient knows you will come back to continue the discussion.
– Let people know how much time you have for a consultation at the start and acknowledge if there are many matters to discuss, meaning some will need to be left for another time. Let them choose which topics will be addressed in the current consultation.
Useful phrases
"I can only imagine how difficult this is for you."
"I wonder if it is frightening to…"
"Is there anything else that is troubling you about the situation?"
"People going through your situation often report experiencing… Is that how you feel?"
"I wish the news was better."9
"I am sad for you that this has happened."
Useful behaviours
Eye contact is extremely important.
Use facial expressions, head nodding, being physically close, hand gestures, open posture, and a forward lean.
Avoid writing notes or reading a chart during a difficult news conversation and when exploring patients' emotions.
Show distress if you feel it, e.g. you do not have to fight an urge to become teary. But check if your emotions are triggered by your patient's circumstance or your personal issues.10,11
– Clearly state that it is the patient's situation that has affected you. You can be distressed but it cannot affect your decision making.11
NURSE your way to effective responses
The NURSE mnemonic is a useful memory aid to assist you to comprehensively and appropriately respond to patients' emotions.4,5 Remember, doctors need to NURSE too!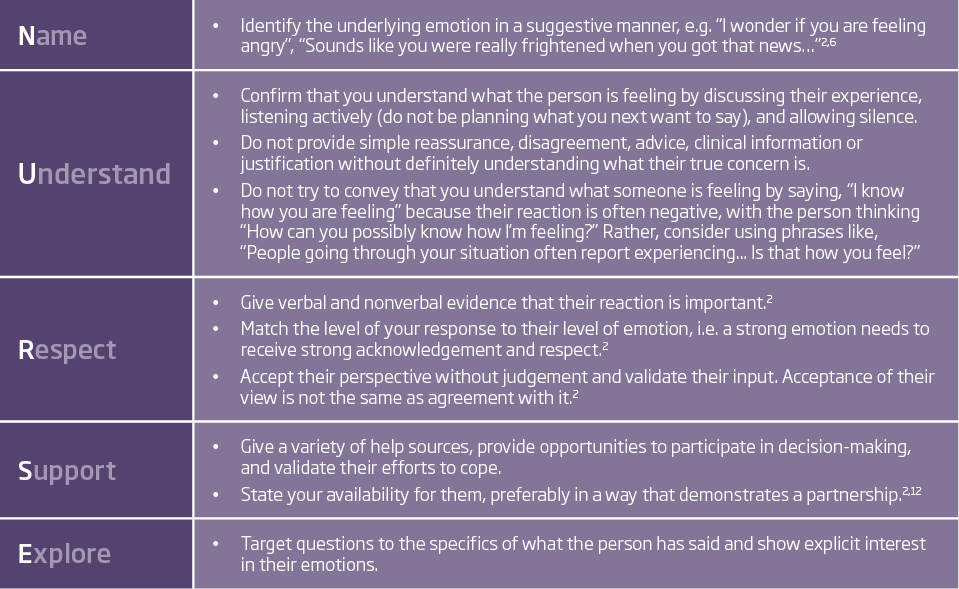 Openly acknowledge strong patient emotions
Never ignore strong feelings. Be mindful of how important it is to continually demonstrate empathy when patients are experiencing difficulty and emotional reactions – it is critical for them, their families and your own satisfaction.
Nicole Harvey
MDA National Education Services
---
References
1. Minichiello T, Ling D, Ucci D. Breaking Bad News: A Practical Approach for the Hospitalist. J Hosp Med 2007;2:415–21.
2. Back A, Arnold R, Baile W, Tulsky J, Fryer-Edwards K. Approaching Difficult Communication Tasks in Oncology. Cancer J Clin 2005;55(3):164–77. Available at: onlinelibrary.wiley.com/doi/10.3322/canjclin.55.3.164/pdf.
3. Fong Ha J, Longnecker N. Doctor–Patient Communication: A Review. Ochsner J 2010;10:38–43.
4. Strange Khursandi D. When Bad Things Happen. In: Cyna A, Andrew M, Tan S, Smith A, editors. Handbook of Communication in Anaesthesia and Critical Care. Oxford: Oxford University Press, 2011. p. 143–55.
5. Epstein R, Hadee T, Carroll J, Meldrum S, Lardner J, Shields C. "Could This Be Something Serious?" Reassurance, Uncertainty, and Empathy in Response to Patients' Expressions of Worry. J Gen Intern Med 2007;22(12):1731–9. Available at: ncbi.nlm.nih.gov/pmc/articles/PMC2219845/.
6. Morse D, Edwardsen E, Gordon H. Missed Opportunities for Interval Empathy in Lung Cancer Communication. Arch Intern Med 2008;168:1853–58.
7. Bensing J, Verheul W, van Dulmen A. Patient Anxiety in the Medical Encounter. Health Ed 2008;108:373–83.
8. Davenport L, Schopp G. Breaking Bad News: Communication Skills For Difficult Conversations. JAAPA 2011;24(2):46–50. Available at: jaapa.com/breaking-bad-news-communication-skills-for-difficult-conversations/article/195335/.
9. Welfare of Anaesthetists Special Interest Group. Breaking Bad News. Melbourne: Anaesthesia Continuing Education Coordinating Committee; 2011.
10. Vandekieft G. Breaking Bad News. Am Fam Physician 2001;64:1975–8.
11. Maguire P, Pitceathly C. Dealing with Strong Emotions and Difficult Personalities. In: Macdonald E, editor. Difficult Conversations in Medicine. Oxford: Oxford University Press, 2004.
12. Cleary M, Hunt G, Horsfall J. Delivering Difficult News in Psychiatric Settings. Harv Rev Psychiatry 2009;17(5):315–21.
Communication with Patients
,
Anaesthesia
,
Dermatology
,
Emergency Medicine
,
General Practice
,
Intensive Care Medicine
,
Obstetrics and Gynaecology
,
Ophthalmology
,
Pathology
,
Practice Manager Or Owner
,
Psychiatry
,
Radiology
,
Sports Medicine
,
Surgery