Articles and Case Studies
Your Elective - Avoiding Problems with Supervision
While on elective in Ethiopia, Janine* a fourth year medical student, was asked to observe tubal ligation surgery. Her supervisor demonstrated, but then the unexpected happened:

He literally walked away and said, "Close". I didn't feel like I had any choice in the matter. I shouldn't have been placed in that situation. I knew it was more than I could handle, but what could I do?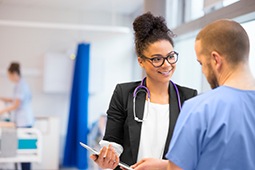 Unsupervised students risk doing more harm than good
It's not uncommon for medical students on electives in developing countries to be expected to undertake tasks beyond their abilities. Local supervisors may not be aware that students don't have the skills required. Often students may assume that the lack of resources and sheer need justifies them performing procedures they wouldn't normally undertake at home. They may also avoid asking for necessary supervision because they don't want to take local staff away from their work. It may be tempting to think that treatment by an inadequately supervised student is better than no treatment at all, but it puts patient health at risk and can frustrate and distress the student.
Know when to say "No". Students should always act within the limits of their knowledge and ability.
Poor supervision is not limited to electives in developing countries. Matt* had a disappointing elective in Germany:
My supervisor didn't want to put the effort into teaching a student who was only going to be with him for a short time. There was an attitude of "You'll be going home in a few weeks, so why should I invest time in teaching you?"
Matt reported inadequate time with his supervisors, a lack of feedback and problems communicating due to the language barrier. I was never observed during history taking or physical examination of patients. I didn't know if I was performing well or making dreadful mistakes.
How do you avoid getting yourself into a situation like this in the first place?
It's up to you to make sure you're properly supervised throughout your elective.
Tips for improving supervision for your elective
Before your elective
Email and even telephone your supervisor to start building a relationship before you arrive.
Ensure that your chosen supervisor and their staff actually have the time and desire to take on the supervising role.
Ask your supervisor what clinical skills they expect you to have. Clarify both your clinical experience and the level of supervision you need.
Understand the limitations on what can be done without supervision. Consider how you might politely decline to perform a procedure if you felt insufficiently trained or inadequately supervised to undertake it safely.
If it seems in the planning stage that your host simply does not have the ability to offer you a well-supervised elective, it may be best to look for an alternative placement.
During your elective
Identify your supervisor(s) and ask them what they expect from you and how you can be of most help.
Discuss your learning objectives with your supervisor and take an active role in your learning.
Speak up, get involved and show genuine interest. Don't be afraid to ask questions. Your supervisor will be more supportive if you're motivated.
Spend enough time in the hospital each day to show your enthusiasm.
Understand that different people will have different approaches or procedures. Ask your supervisor the rationale behind their decisions.
When tasks are delegated to you, ensure you have the necessary experience and information to undertake them.
Be honest about your level of competence – a supervisor prefers to know what you can and can't do, rather than having to rescue a situation when you've lost control.
Get to know the nurses and other healthcare professionals – these people can also teach you a great deal.
After your elective
Thank your supervisor(s) for their time and help.
Ask for feedback beyond the brief form that the supervisor completes as per medical school requirements. Also ask if they would be willing to act as a referee for you.
Write an account of your elective for future students to read, including your assessment of the supervision you received.
Therese Chapman
Medical Writer for MDA National Education Services
*Based on real experiences reported by medical students. Names have been changed.
Communication with Colleagues
,
Employment Essentials