Articles and Case Studies
Member Risk Management Program
A key component of MDA National's commitment to support and protect Members, and promote good medical practice, is assisting Members to identify and respond to risk issues in their practice. The issues of concern are those that expose Members to the risk of legal or disciplinary action against them. This service to Members is provided by our Support in Practice (SiP) team.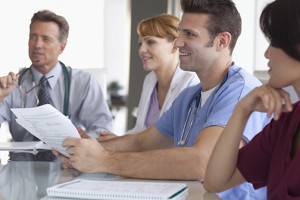 In April 2013, the SiP team relocated to Sydney to develop and strengthen the existing relationship with our Claims and Advisory Service. This provided an ideal opportunity to review the existing risk management program to ensure it provided appropriate support for Members. As a result, the MDA National program will now have a two-level approach.
Level 1 – Early Intervention Program
This level is designed to identify and address risk concerns early so that events of a similar nature might be prevented in the future. This may be offered to a Member with, in some cases, only one claim or complaint. Member participation at this level is strongly encouraged as research has suggested early intervention has considerable potential to reduce the likelihood of further risk issues occurring.1
Level 2 – Member Risk Management Program
This level is designed to address risks for those Members who have a more complex claims history. Members offered assistance in this category are provided with a targeted and focused risk management program. Participation at this level can, in some circumstances, be a condition of ongoing indemnity cover with MDA National Insurance.
Responding to a Member's risk
In order to determine how MDA National will respond to a particular Member's needs, a review of the frequency, nature and complexity of a Member's claims over a period of time is undertaken by representatives of the SiP, Claims and Advisory Service and Underwriting teams.
Should a Member be suitable for participation in the Level 1 or Level 2 program, the SiP team will contact the Member directly and discuss the assistance that can be provided to best meet that Member's individual needs.
The range of Member risk management and support varies and may be in the form of:
a phone discussion or meeting
provision of resources, materials or articles
recommendation to attend a workshop or educational activity provided by MDA National
a practice visit, including discussion with practice staff and review of practice systems
meetings, interviews or mentoring with a peer or colleague.
Most Members on the Level 2 program require a practice visit to enable a targeted and individualised program to be developed.
Ongoing support
Once assistance has been provided, the SiP team will maintain contact with the Member to assess progress, provide further assistance to reduce risks and, where relevant, to ensure compliance where risk management is a formal requirement.
The SiP team
MDA National's risk advisers have extensive experience in healthcare risk management with a strong commitment to supporting Members. Their advice is based on:
claims data analysis
the experience of MDA National
legislation and standards
literature.
The SiP team can be contacted on 1800 011 225 or by email at peaceofmind@mdanational.com.au.
---
1 Bismark MM, Spittal MJ, Gurrin LC, et al. Identification of doctors at risk of recurrent complaints: a national study of healthcare complaints in Australia. BMJ Qual Saf Published Online First:[12 April 2013] doi:10.1136/bmjqs-2012-001691. Available at qualitysafety.bmj.com/content/early/2013/02/22/bmjqs-2012-001691.full