Articles and Case Studies
My Royal Elective
Thomas Boosey, a fourth year student from Griffith University, shares his unique and rewarding experience during his elective at St Mary's Hospital, London, where the Royal Prince George was born.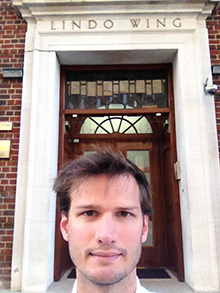 After barely, though successfully, navigating the lengthy University and UK Visa application processes with deadlines only marginally met, I found myself embarking on an elective at a London hospital that seems to reinvent its fame roughly every thirty years. Unavoidably, most Australians, and probably anyone who owns a TV or uses the internet, found themselves gazing upon the empty steps of the "Lindo Wing" awaiting a Royal arrival into this world. I was fortunate to witness the action from much closer and can attest that the Princess' "grand" entrance to the "real Lindo Wing" was far less glamorous, though no less secure.
Of course, I'm talking about St Mary's Hospital in Paddington, London where young Prince George Alexander Louis met the world on 23 July 2013 and his father Prince William achieved the same in 1982; where Sir Roger Bannister returned to graduate medical school just a day after running the first sub‐four-minute mile in 1954; and Sir Alexander Fleming discovered penicillin in the 1920s and now has a museum and a pub named after him. And this was now to be the site of my Ear, Nose & Throat (ENT) Surgery elective through Imperial College London.
I trundled up to the gates of St Mary's to be confronted by the Met (London police) on every corner and paparazzi littering, quite literally, the street outside Lindo Wing; whilst the closest thing to anything really Royal was the naming of the Queen Elizabeth Queen Mother Building (main wing) that they made near impossible to access. Despite assertions from senior staff, especially Consultants, that the whole rigmarole was merely a nuisance that only made for such inconveniences as difficulty finding a car park, the buzz certainly grew. More and more tourists came to have their compulsory photo taken and blocked the road in front of Lindo Wing in anticipation of the Baby Prince or Princess.
As if the ENT content of my elective was not enough incentive to get me out of bed each day for the relaxed 9.00am starts (a stark contrast to surgical rotations in Australia), there was always the excitement that Princess Kate might have arrived or rather "sneaked" into Lindo Wing opposite the clinic I attended daily. I can safely say the same sentiment was not shared by the paparazzi who were so bored that they took to interviewing each other. However, a patient in my paediatric ENT clinic one Friday morning nearly provided them with a story worth writing about.
A rogue child precociously wheeled his ride‐on toy car into the consulting room and proceeded to flit from toy (otoscope) to toy (disposable bed sheet roll) to toy (sharps bin, empty fortunately). As a medical student, my duty was clear – entertain the kid whilst the doctor attempted to elicit enough history from his refugee mother to solve this menacing behaviour. He was suffering (as were we) from a paradoxical daytime hyperactivity secondary to obstructive sleep apnoea, a condition that one would expect to leave a child sedate. Alas, he finally found a book and I let my guard down only for a moment as I thought he would settle to read it. However, he swiftly made a bee‐line for the window where he slotted the hard cover picture book through the outward‐opening window threatening doom to the oblivious paparazzi directly below, seven floors down! Disaster and a newsworthy story were only averted by the surgeon's steady hands securing the book as it departed the boy's. We breathed a huge sigh of relief and chuckled when he and his mother finally left.
The first half of my elective wound up after waiting all afternoon for the no‐show royals to show outside Lindo Wing. A crowd suddenly flocked to the freshly barricaded street after a sleek black Jaguar arrived presumably to pick up the proud new parents; but one of the Met, seeing my staff ID and genuine excitement, stooped down to alert me – "it's only Grandad". Mind you, when "Grandad" is first in line for the throne, most would probably deem it worthwhile sticking around for another five minutes just to glimpse some Royalty. Alas, I had had enough for the day. And after all the unusual heat, the light London rain finally came so I headed home to Notting Hill. Shortly after, the little Prince finally arrived, greeted the world with a Royal wave and promptly departed St Mary's. The paparazzi were gone leaving a mess while tourists continued to trickle by for days.
I was also able to focus more on my elective and learning from my charismatic supervisor whose surgeon's responsibilities and skills included attending the Ashes at Lord's, retrieving facts about every patient based purely on their London postcode, as well as running a successfully productive and enjoyable department that's world-renowned. I certainly witnessed some amazing operations – from the delicate middle ear surgery of stapedectomy on the smallest bone in the body under microscopy, to the major head and neck cancer operations at nearby Charing Cross Hospital, as well as pioneering robotic thyroid and throat surgery. One particular day I spent from 9.00am until 10.00pm in theatre. The first part was spent in a state‐of‐the‐art operating theatre complete with robot, multiple viewing screens and an iPod dock. The evening part was equally enjoyably spent in a West End theatre watching Jersey Boys.
London is truly a melting pot of British tradition and has a cultural mix combining remnants from the Imperial era with elements from current membership of the EU and growing relations with the Middle East. This made for a very interesting patient demographic at St Mary's from London aristocracy and other Brits to refugees, immigrants and tourists of course. There was a day when every patient seemed to be a fashion model. Another day included infectious diseases rarely encountered in my sheltered Australian hospital placements. And then there was the patient who presented to A&E with a human bite to the ear. Sadly, there were also several cases of tourist versus London double‐decker bus.
With these confronting cases and other intriguing medicine and surgery, paired with the Royal hype, it would have been very easy for an impressionable student to get carried away by assuming a VIP mentality. Probably the most valuable lesson learnt from my elective in London was from a Senior Registrar, who had previously been a Consultant in Iraq for some years before immigrating to the UK. He reminded me that: "to do surgery is a very great privilege that one must earn". It got me thinking that not just surgery, but even to practise as a junior doctor or be involved as a medical student, is truly a privilege and a great responsibility not to be taken lightly. His final words of wisdom were that to earn this privilege and all the glamour that goes along with the profession, "one cannot afford to be lazy, so do not be".
"When reminiscing about the torture of uncertainty and paperwork endured to organise this elective, I'm glad that laziness did not prevail. I would encourage other medical students to seek out electives that will enrich their learning, not just from a medical content perspective but also for their professionalism."