Articles and Case Studies
Don't Miss Your Mail!
Have your postal or email details changed? As a Member of MDA National, you receive Member benefits, policy notices, documents and other communication via your postal and email addresses.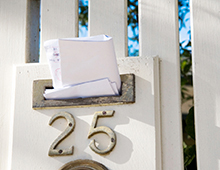 Don't miss this important information. Keep your details updated, it's easy:
1. Go online: mdanational.com.au.
2. Log on to our Member Online Services using your Member number and password (you can register for these online today).
3. Click on the "View and Update your Details" link and follow the prompts to update your details.
You can also call our Member Services team on 1800 011 255 to update your details.