Articles and Case Studies
Treating Staff Members
MDA National Medico-legal Adviser, Dr Jane Deacon, discusses problems associated with treating staff members.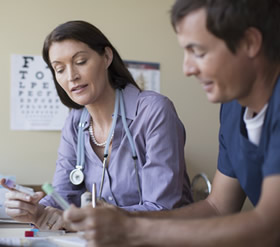 Case history
Dr Geep was approached by one of his receptionists. She told Dr Geep that she had been suffering from back pain for a while and she would like him to give her a referral for a CT scan of her back, which she thought would just give her "peace of mind". She said that as he was fully booked today she didn't need a consultation, if he could just give her the referral.
How should doctors respond to such requests? Is it good practice to provide medical care to your staff?
If you have further questions or require specific advice, contact our Medico-legal Advisory Service on 1800 011 255 or email advice@mdanational.com.au.
Medico-legal issues
Medical centre staff may feel that easy access to free medical care is an unwritten perk of the job. Many staff also develop great confidence in the doctors with whom they work and they may want to become their patients.
This request for a "corridor consultation", where the staff member has not provided a full history and there has not been an opportunity for a physical examination may result in poor or fragmented care, inadequate documentation and lack of follow up.
To ensure appropriate medical care, the doctor requires access to information of a sensitive nature. In the setting of a formal consultation, the doctor would have access to this information. The doctor may learn about sensitive issues that are awkward for the doctor as an employer because they may affect the workplace.
Confidentiality issues may arise from this. For instance, when treating a staff member, the doctor may not document sensitive information because other staff may have access to the information. The staff member may not disclose that information in the first instance because of confidentiality concerns.
There is potential for conflict when making medical judgements about the severity of an ailment. It may be difficult to be objective if sending someone home sick is going to be a hardship for the practice. Treating staff members for a work related injury is also a potential minefield.
Summary Points

Treating staff members should be approached cautiously as there is potential for less than adequate care.
Workplaces should consider having a formal policy about treatment of staff that all staff members are aware of.
The Medical Board of Australia recommends that doctors "…avoid providing medical care to anyone with whom you have a close personal relationship". Treating staff members is inappropriate due to the "…lack of objectivity, possible discontinuity of care, and risks to the doctor and patient".1
The American College of Physicians also recommends treating staff only in an emergency and to transfer such patients to another doctor as soon as possible.2
Requests made by staff or colleagues may be difficult to refuse due to social pressures in the workplace. Refusing to treat staff may also affect the working relationship by introducing tensions. Workplaces should have a formal policy about staff treating staff except in emergencies. It is preferable to make this a practice policy that staff are aware of at the outset.
---
1 Good Medical Practice: A Code of Conduct for Doctors in Australia. Available at: medicalboard.gov.au/Codes-Guidelines-Policies.aspx
2 Snyder L. American College of Physicians Ethics Manual. Ann Intern Med 2012;156:73-104.
Anaesthesia
,
Dermatology
,
Emergency Medicine
,
General Practice
,
Intensive Care Medicine
,
Obstetrics and Gynaecology
,
Ophthalmology
,
Pathology
,
Practice Manager Or Owner
,
Psychiatry
,
Radiology
,
Sports Medicine
,
Surgery