Articles and Case Studies
Prescribing for Self and Family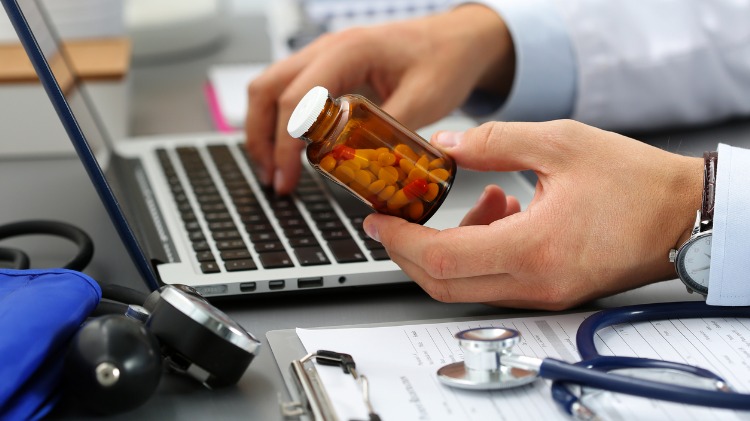 Medico-legal Adviser, Dr Julian Walter navigates the complexities of drug prescribing under inconsistent state and territory legislation.
One National System, Eight Different Rules
Case history
A Member, who was moving to Victoria, sought advice about whether they could, while seeking a new GP, write scripts for their own antihypertensive medications.
Medico-legal issues
Calls to MDA National's Medico-legal Advisory Service from Members seeking information about restrictions on prescribing for themselves or their family are not uncommon. Despite medical practitioners in Australia being registered under AHPRA's National Registration and Accreditation Scheme, most drug prescribing is still regulated under inconsistent state and territory legislation. Such fragmented and disparate legislation places Members at risk of inadvertent, yet serious, breaches of the law.
Medical Board
Under the Medical Board of Australia's Code of Conduct1 (the Code) practitioners must conform to their relevant state or territory legislation in relation to self-prescribing. The Code also notes that practitioners, wherever possible, avoid providing medical care to anyone with whom they have a close personal relationship because of the risks, such as lack of objective assessment, potential poor provision of continuity of care and issues of confidentiality. Medical practitioners should have their own GP and avoid self-diagnosis and treatment.
Indemnity cover
The MDA National Professional Indemnity Insurance Policy excludes cover for claims arising from elective medical treatment provided by a Member to their immediate family (which includes a current or former spouse, de facto or domestic partner, children or the children of a current or former spouse, de facto or domestic partner, brother, sister or parents). This would include situations where Members had electively prescribed for their family. It is also important to be aware that claims or inquiries arising out of use, supply or administration of a substance that is deemed illegal or unlawful would not be covered under the policy.
State and territory legislation
Self-prescribing - This is a complex area and there are significant variations between states and territories. As a general rule, S8 self-prescription is not permitted except in a very limited set of emergency situations.
In Victoria, no self S4 or S8 prescribing is allowed under any circumstances.
Prescribing for family – There are no specific legal restrictions for prescribing S4 drugs for a practitioner's family.
Similarly, S8 drug prescriptions are not restricted for family except in South Australia where the legislation does not permit S8 prescription, except in a verifiable emergency (penalties of up to $5,000 apply).
State and territory differences for prescribing for self and family
Family S4
Family S8
Self S4
Self S8
ACT
Yes
Yes

Yes
Not restricted drugs
(includes benzodiazepines)


No
NSW
Yes
Yes

Yes
Restricted drugs for
medical treatment only
(includes benzodiazepines)


No
Only for medical
treatment
NT
Yes
Yes
Yes
Restricted drugs in
emergency when no access
to other doctor
No
No self-administration
unless genuine
therapeutic use in
emergency and no
access to other doctor
QLD
Yes
Yes
Yes
No
No self-administration
unless genuine need and
condition and supplied
by other doctor
SA
Yes
No
Verifiable
emergency
Yes
No
Verifiable emergency
TAS
Yes
Yes
Yes
No
VIC
Yes
Yes
No
No
WA
Yes
Yes

Yes
Not specified drugs
(includes Diazepam injection,
barbiturates, anabolic steroids)

No
Further information on drug scheduling available here.
Summary Points
Given the legal complexities in this area and the propensity for their revision, a sensible starting point for all practitioners is to avoid self-prescribing of S4 and S8 drugs.
Legislation prohibits S8 prescribing for family members in SA only. There are no specific legal restrictions on a practitioner prescribing S4 drugs for his or her family. However, prescribing for family members should be avoided as a matter of good medical practice.
If you have further questions or require specific advice, contact our Medico-legal Advisory Service on 1800 011 255 or email advice@mdanational.com.au
---
1Good Medical Practice: A Code of Conduct for Doctors in Australia. Available at: medicalboard.gov.au
Anaesthesia
,
Dermatology
,
Emergency Medicine
,
General Practice
,
Intensive Care Medicine
,
Obstetrics and Gynaecology
,
Ophthalmology
,
Pathology
,
Practice Manager Or Owner
,
Psychiatry
,
Radiology
,
Sports Medicine
,
Surgery