Articles and Case Studies
Take Care With Your Signature…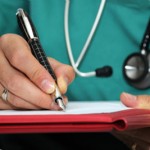 The de facto asked Dr Quinn to sign a letter stating that the patient could not sign any documents because of her recent hand surgery. The intern dutifully completed the statement for the de facto.
A week later Dr Quinn was summoned to the Medical Superintendent's office. Apparently the de facto had used the intern's letter to withdraw all of the patient's savings from her bank account. The patient was extremely distressed and the police were investigating the matter. The patient had complained to the hospital about Dr Quinn's actions.
The intern contacted MDA National's 24/7 Medico-legal Advisory Service for advice and was assisted in preparing a response to the hospital and the patient.
Lesson learned
This case provides a useful reminder of the importance of taking care of your signature.
If in doubt – call us!
Want to know more about MDA National's Medico-legal Advisory Service? Contact 1800 011 255 or email advice@mdnational.com.au.
The case histories are based on actual medical negligence claims or medico-legal referrals; however, were necessary certain facts have been omitted or changed by the author to ensure anonymity of the parties involved.